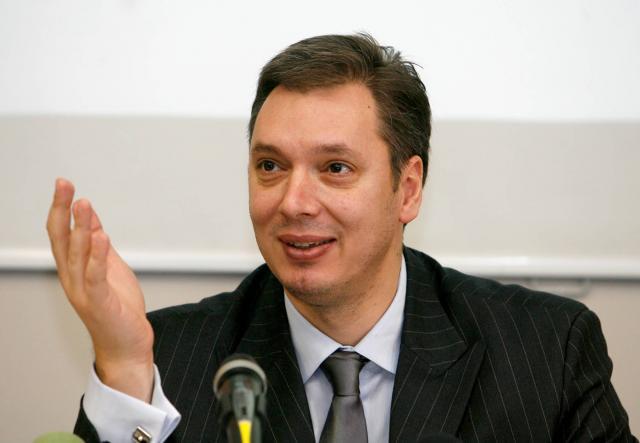 Review by Christos T. Panagoopoulos
Serbian Progressive Party (SNS) leader Aleksandar Vucic commands the trust of 68% of citizens, the most of all party leaders, according to a poll conducted by Faktor Plus and published in the daily Politika.
Socialist Party of Serbia (SPS) leader Ivica Dacic has the trust of 23% of the public and Democratic Party (DS) leader Dragan Djilas of 18%, showed the survey which polled 1,120 people between July 18 and 23.
Democratic Party of Serbia leader Vojislav Kostunica is trusted by 14%, DS deputy leader Bojan Pajtic by 8%, and United Regions of Serbia (URS) leader Mladjan Dinkic by 6%, the same as Liberal Democratic Party leader Cedomir Jovanovic.
9% of those polled said they have confidence in some other politician.
The ruling coalition is led by the SNS, SPS and URS. Of the people polled, 36% said they were "certain that the URS ministers have not done a good job," while 26% percent believe Dinkic's "firm position that the URS ministers were successful and there is no reason to replace them" is a strategic move from a party which has often caused governments to topple in the past.
The URS leader's position is selfish considering the difficult economic situation the country is in, said 24% of the respondents, while 8% had no opinion on the matter.
When it comes to reasons why some ministers are resisting the government reshuffle, 72% of respondents believe it is because of the loss of privileges associated with a ministerial office, 65% say it is about loss of power, and 58% about loss of personal and political authority.
Fear of losing influence in their own parties was named as the cause by 41 percent, while 33% believe that dismissal from a ministerial position is seen as a personal defeat.
Twelve percent identified the cause as something else, while seven percent believe the ministers are opposing the reshuffle because they believe they did their job honorably and successfully.
Eight percent of respondents said they believe the SPS when it says the party does not fear a reshuffle, while 64% believe this is so because "ministers who are replaced will be appointed to other public offices, which will ensure peace inside the party."
At least 20% of the people polled do not believe that the SPS does not fear a government reshuffle and think the reshuffle will consequently be conducted inefficiently, while eight percent did not offer a response to this question.
Source: Tanjug