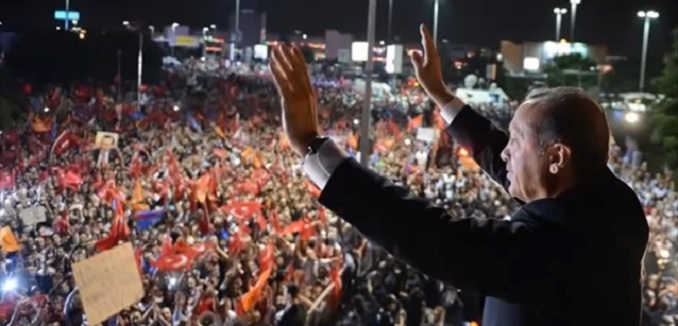 By Manolis Kostidis – Ankara
Members of AKP were shocked by the new poll that shows a huge drop on the governing  party's percentages.
According to Metropoll survey company, AKP's percentages on March, 2014 has dropped to 36.9% with the Republican People's party closing in the gap by registering a 27.4%. The same company on August, 2013 was giving 43.5% to AKP and 20.3% to CHP, while in December, 2011 the percentages were 51.3% and 21% respectively.
The company's analysts said that the corruption scandal that broke out on December 17, 2013, in combination with Erdogan's telephone conversations that were leaked on the internet, in which he is heard asking his son Bilal to "move" the millions of dollars he has in his home, have had an impact on Turkish voters. The National Action party (MHP) seems to be the one that benefits from this shift in power seeing its percentages go up to 14.8%.
Last Wednesday, Erdogan for the first time in his political career did not aim for a percentage similar to the one his party had received in the last elections, but rather stated that he will resign if AKP is not the first party in the coming elections. Basically, what he did was lower the bar for the March 30 public elections.