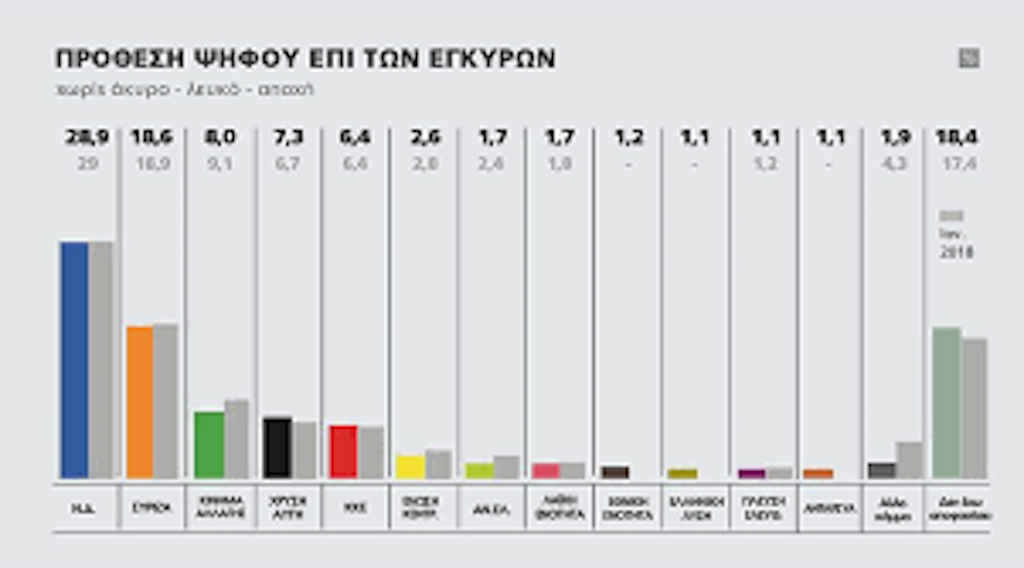 A new opinion poll by Marc, commissioned by Proto Thema newspaper, sees main opposition New Democracy party maintain a health lead over ruling SYRIZA.
The conservatives garner 28.9% of preferences over SYRIZA's 18.6%, with center-left entity Movement of Change on 8%, followed by neo-Nazi Golden Dawn on 7.3% and the Communist Party on 6.4%.
The Union of Centrists party and SYRIZA's junior coalition partner, Independent Greeks (ANEL) both come in below the 3% threshold for entry to parliament, with 2.6% and 1.7% respectively.
The Popular Unity – a leftist party led by Panagiotis Lafazanis – which has strongly campaigned against the auctioning of foreclosed properties, comes in at 1.7%.
Asked who is better suited for the position of Prime Minister, respondents opted for Kyriacos Mitsotakis (30.7%) over Alexis Tsipras (21.7%). However, the majority (47.6%) said "nobody".
Analysts point out that voters appear to be dissatisfied with the political personnel, with Golden Dawn being the only party to make marginal gains since the previous Marc poll. There also appears to be discord with a series of key policies adopted by the government.
Sixty percent of respondents believe the government handled the issue of the detention of two Greek soldiers by Turkey wrongly, while 74.5% said they oppose the use of the name Macedonia by neighboring FYROM. Over 83% of Greeks also don't believe the government narrative that the end of the bailout era is near, arguing that the country will continue to be under "strict supervision".
Meanwhile, asked about the Novartis case, 31.7% said politicians are being investigated because "sufficient evidence" exists, with 54.4% saying they are being probed in order to "create impressions".
The vast majority of respondents (65.3%) said an election should be called if the Independent Greeks decided to drop out of the coalition, with 19% preferring the government to forge a different coalition and 6.6% saying it would be better to continue with a minority government.
Asked who the Movement of Change should side with if there is no absolute majority in parliament following the next election, 31.7% said New Democracy, 16.9% said SYRIZA and a majority of 38.3% said neither…. / IBNA