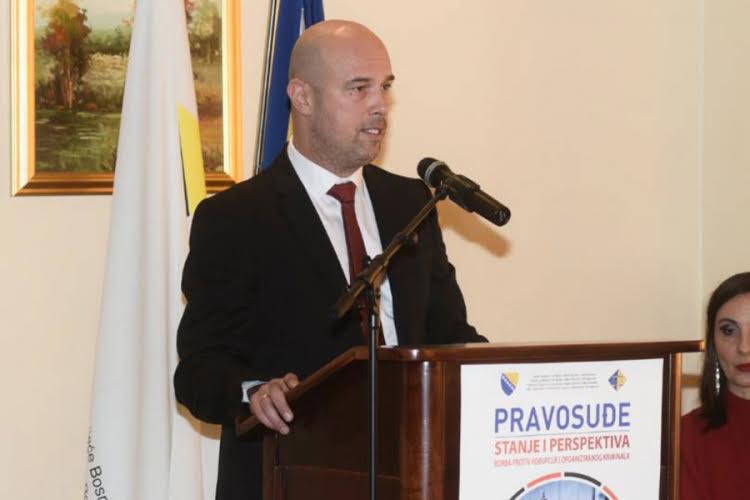 The chairman of the High Judicial and Prosecutorial Council of Bosnia and Herzegovina (HJPC BiH) Milan Tegeltija said on Thursday, in Banja Luka, that all politicians are "putting pressure on the judiciary", but that this state's case is not an isolated one.
"It is happening in all countries of the world, in a milder way. It is (all about) a conflict among the three levels of government," said Tegeltija at a conference titled "Judiciary – the current state and perspective with an emphasis on the fight against corruption and organised crime".
He added that, politicians generally speak negatively about the judiciary; certain criticism is justified, but it rarely defends this branch of authority. With these phenomena, as he said, the representatives of the judicial institutions in BiH must fight to improve the system and create tools for a more efficient fight against corruption and organised crime.
"We have to establish tools, a framework of independent and autonomous action of all judicial institutions, which must result in equally treating those who deal with crimes of corruption and organised crime," he said.
Tegeltija stated that it is necessary to increase the number of processed cases of so serious crimes, but that no one should judge another person in advance. He added that "one case is not enough". HJPC president said that it has to become common practice and that it must be happening continuously.
The Deputy Chief of Mission of the U.S. Embassy in BiH, Paul Horowitz said that the number of cases with high-ranking officials who have been successfully prosecuted in BiH is disappointingly low.
"This number will continue to decline, if the perpetrators are allowed to master or influence the judiciary," Horowitz said and stressed that successful examples of the processed cases of corruption, organised crime and economic crime are urgently needed.
He reiterated that such action and bringing high-ranking officials before a court of justice must emphasise that "no one is above the law". Horowitz also pointed out that the keys to the fight against corruption are judges and prosecutors, their expertise, professionalism and integrity.
"The United States are still very concerned about the political influence that is widely spread within every part of the judiciary of BiH. Therefore, the United States, along with the citizens of BiH, are working to eliminate this negative impact," he stressed…/IBNA