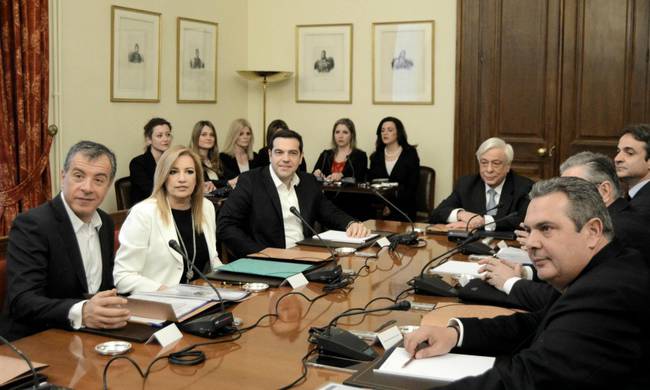 The assets statements of Greece's political personnel for 2015 were published on Wednesday. The Hellenic Parliament made the statements of Greek political party leaders and the country's 300 parliamentarians public as part of its drive to shed light and increase transparency in the Greek political system.
Parliament President Nikos Voutsis was asked by reporters if the release of the statements had anything to do with political developments. He made clear that it had nothing to do with the government and was not part of a communication strategy.
Prime Minister Alexis Tsipras' wealth was unchanged. The PM declared income amounting to 71,539 euros of which 46,857 euros were tax-free and another 2,463 euros from other sources.
The Greek premier maintains five bank accounts with the National Bank of Greece where he has 23,671 euros in deposits. He owns a 114 sq.m. apartment and a 652 cc motorbike. Alexis Tsipras has no shares or bonds in his name.
Compared to 2014, his income was marginally increased as he had declared 71,071 euros income.
The finances of main opposition party leader Kyriacos Mitsotakis were also stable in 2014-2015. The only notable change was the stake he now has in Cretan newspaper "Chania Herald" ("Kirikas Chanion").
Mitsotakis declared income amounting to 77,185 euros (of which 46,857 euros is tax free), 3,791 euros from agricultural subsidies, 1,354 euros from interest payments and 6,240 euros from rent collection. There are no changes to property or shares in his name. The conservative party leader has accounts with the National Bank of Greece where he has deposited 32,000 euros and 29,180 US dollars.
Of the minor opposition parties, PASOK leader Fofi Gennimata declared 70,302 euros income (of which 10,392 tax free) while her bank deposits amount to 51,879 euros and she also owns two cars.
To Potami chairman Stavros Theodorakis reported considerably higher bank deposits, amounting to 289,616 euros in 2015 while his income as MP amounted to 61,766 euros (of which 44,887 euros tax free). Theodorakis owns six plots of land, a car, three motorcycles and maintains various bank accounts together with his wife and daughter. He has holdings in various companies, including a restaurant business.
The leader of government coalition partner ANEL party, Panos Kammenos, declared revenues from his salary as MP amounting to 125,232 euros in 2015 and 13,000 euros from other sources./IBNA