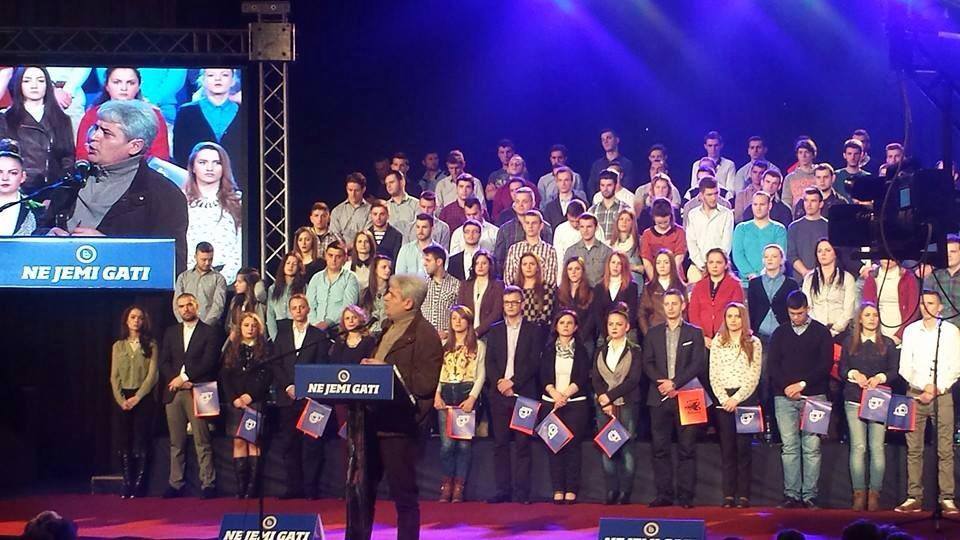 PUBLISHED: 12:54, 10 March 2014 | UPDATED: 16: 13, 10 March 2014
Ahmeti: Albanians will not recognize the legitimacy of the new head of the state who will come out of the new presidential elections
Skopje, March 10, 2014/Independent Balkan News Agency
By Naser Pajaziti
The leader of the biggest Albanian party Democratic Union for Integration (BDI), Ali Ahmeti declared last evening (09.03) that Albanians will deny legitimacy to a Macedonian elected president, given that the idea to elect a president acceptable for all communities in FYR Macedonia is refused.
"Albanians will no longer accept an ethnic president. BDI will deny legitimacy of VMRO's president, BDI wants every citizen to be equal. We will work hard for our idea to prevail. As to them, who call on their forces to be mobilized, a consensual president is a closed chapter, but the "elected" president will be objected, be him from VMRO or from LSDM. We will work in order for this process to fail. If Ivanov is elected, then we will constantly object to his legitimacy until our idea is accepted", declared Ahmeti in front of the Youth Forum of BDI in a rally held in Skopje, where he unveiled the concept for a consensual president and the new platform for early parliamentary elections.
The head of BDI also warned that in case of political tactics, the situation may escalate into tensions. According to him, the country may isolate even more as far as Euro Atlantic processes are concerned.
"We call on all Macedonians, Turks, Serbs to be more sensitive and join us into making steps forward, because there's no other alternative other than accession in the NATO and EU. If we don't move forward with the time, then every further delay may lead to a cross ethnic confrontation and if this happens, we will be isolated and remain behind in all processes", said Ali Ahmeti", leader of BDI.
Mr. Ahmeti demanded from other communities that live in the country to "uphold this feeling of equality and representation".
VMRO-DPMNE replies to Ahmeti
Macedonian party of the current government coalition VMRO-DPMNE has immediately reacted today against the declarations issued by the head of the Albanian party Democratic Union for Integration (BDI), who declared last evening in a rally with the young forum of his party that he would object the legitimacy of the next Macedonian president.
The senior official of VMRO-DPMNE and current minister of Interior, Gordana Jankulovska declared today (10.03) that the declarations that are against democratic institutions will be punished by the majority of people.
"I hope that all declarations that are against democratic institutions of the country will be punished by the majority of the citizens. The hypothetical contest of the legitimacy of an official directly elected in the elections has nothing in common with democratic behavior. This is my only comment", underlined Jankulovska, asked today by journalists as to how she comments the declaration issued by Ahmeti according to whom the next Macedonian president will not be recognized, especially George Ivanov, the current president who is running for a second term in office and who was proposed by VMRO-DPMNE. /ibna/