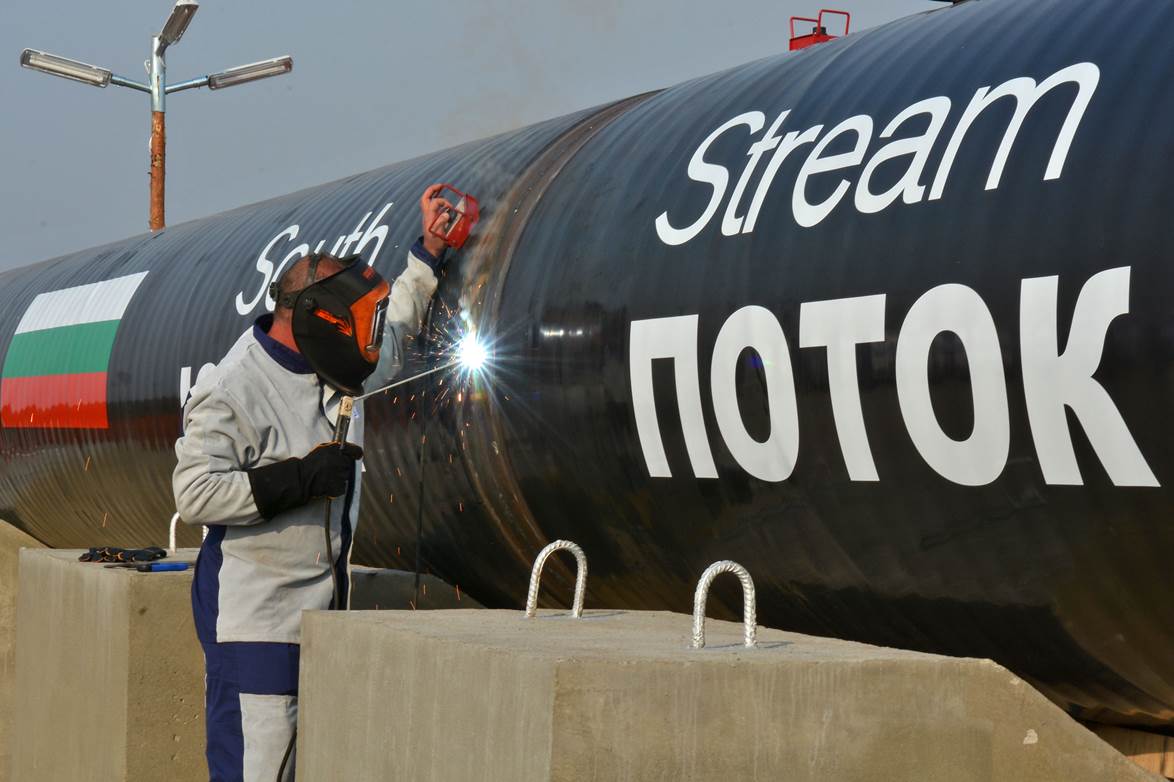 By Clive Leviev – Sawyer of The Sofia Globe
A predictable political uproar has followed Bulgaria's announcement that it is stopping all activities linked to South Stream pending dealing with the European Commission's queries over the gas pipeline project, with opposition politicians calling the episode a humiliation for Bulgaria and calling for the government's resignation.
After a June 8 meeting with three visiting United States senators, Plamen Oresharski – occupant of the prime minister's chair in the Bulgarian Socialist Party cabinet – said that all work on South Stream had been stopped while Bulgaria deals with the queries raised by the EC, which on June 2 initiated an infringement procedure in connection with the choice of Stroytransgaz to build the Bulgarian land section of the project.
Boiko Borissov, leader of centre-right opposition GERB, said, "I have always said that in trying to deceive everyone, Brussels, Moscow and Washington, Oresharski and company will cause the South Stream project to fail".
Bulgaria had suffered another exam humiliation because of the government's inability to deal with the situation around South Stream, Borissov said. The only outcome had to be the government's resignation, he said.
Senior GERB MP Lilyana Pavlova, speaking in a June 9 television interview, said that Oresharski acted if he had seen, heard and understood nothing about South Stream.
Pavlova said that it was impossible that the South Stream contract with Stroytransgaz (a Russian company whose owner is subject to US and EU sanctions over Russia's illegal annexation of Ukraine) could have been signed without the knowledge of the prime minister.
"Everyone is aware of what they are doing in connection with South Stream. No one can convince me that Oresharski did not know that someone has signed on the project. This is not serious," Pavlova said.
"They lied to Europe, they lied to Russia. How come, all of a sudden, he decided to suspend it after a meeting with the US senators – this is not a normal reaction. He had to stop it when our European partners sent us a clear indication that Bulgaria would face an infringement procedure and sanctions," Pavlova said.
Roumen Petkov, formerly interior minister in the Sergei Stanishev Bulgarian Socialist Party cabinet and now a senior member of Georgi Purvanov's rival ABC movement, said that the fact that the announcement of the suspension of South Stream took place after Oresharski met three US senators was a humiliation for the BSP and the country as a whole.
"A huge number of blunders have been made in connection with the South Stream gas pipeline in terms of choosing the executor and that is why the European Commission has the right to react it terms of the price," Petkov said.
Political scientist Ognyan Minchev, speaking to public broadcaster Bulgarian National Radio on June 9, said that a key question was whether a contract had been signed with Russian company Stroytransgaz in secret or was still being prepared.
"We can say that the signing of contracts is not a favourite practice either for Russian energy companies or their Bulgarian counterparts. In the case of Belene (nuclear power station project), two billion was spent without ever having a contract. And now we do not know the parameters of South Stream," Minchev said.
From the side of the government, Dragomir Stoynev, economy and energy minister in the BSP cabinet, said that the dispute over the Bulgarian section of South Stream was more a legal one and European experts would be in Sofia at the weekend for discussions about it.
"We have prepared initial legal arguments of the Bulgarian side in response to the Commission's letter on the auction, the intergovernmental agreement and the status of the South Stream company," Stoynev said.
He emphasised that no one had questioned the South Stream project and the need for it and said that Bulgaria had not given up on it.
As a European project, South Stream appeared irreversible, Stoynev said.
"Currently, disputes are focused on exactly how to implement this European project. I am confident that a solution will be found, including in the wider political context," he said.
Photo http://www.gazprom.com/