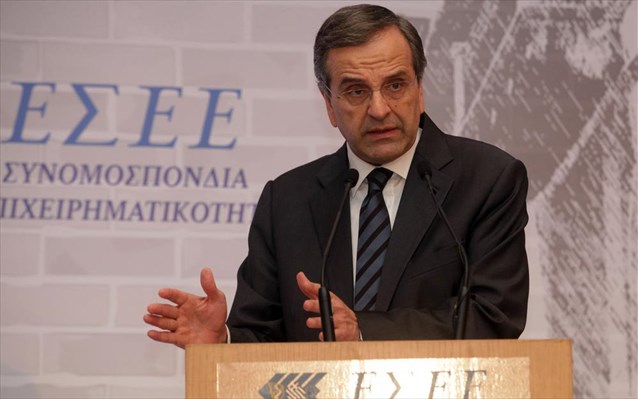 Athens, December 11, 2014/ Independent Balkan News Agency
By Lefteris Yallouros
Greek Prime Minister Antonis Samaras launched a scathing attack on main opposition SYRIZA Wednesday, in his speech during an event of the Hellenic Confederation of Commerce and Entrepreneurship in Athens.
"We do not have to say anything; the terror they cause speaks for itself," Samaras said of the left – wing party. The Athens Stock Exchange suffered its worst single-day slump since 1987 on Tuesday while a further drop of 1,01 percent (to 893 points) was recorded Wednesday.
"They are trying to interrupt the country's progress with the threat of early elections, using the presidential election as their vehicle and thereby going against the Constitution's spirit," he said. "Some people have been creating concern abroad about political instability and uncertainty (…) Citizens do not want elections and markets do not want elections," he added.
Tsipras
Speaking at a meeting of SYRIZA's political secretariat, Tsipras expressed certainty that the government's candidate for president, Stavros Dimas, would not be elected in any of the three upcoming ballots. The main opposition leader also said he expected MPs to come under immense pressure to vote in favor of Dimas but added that his party are on alert for an imminent general election.
Entrepreneurs
The heads of Greek business federations, on the other hand, appear adamant that a political crisis is the last thing the economy needs. During a presentation of the annual report of the National Confederation of Commerce and Entrepreneurship (ESEE), entrepreneurs issued warnings against political uncertainty.
"The country's economic risk remains associated with its political risk. While there are no dead ends in democracy, as they say, in the financial life of a country in recession there may well be a dead end when opportunities are missed and petty political attitudes prevail," warned Theodoros Fessas, the head of the Hellenic Federation of Enterprises (SEV).
"MPs must do what is best for the country. The Greek market and the real economy has stabilized in 2014 for the first time in years. The turbulence that may emerge from an early election could harm entrepreneurship further," stressed ESEE president Vassilis Korkidis.
EWG
Meanwhile, the Euro Working Group (EWG) approved on Greece's request for a two-month extension to its bailout on Wednesday.
The extension means that Greece does not have to give back some 11.5 billion euros remaining in the Hellenic Financial Stability Facility (HFSF) and will also not lose the last 1.8-billion-euro bailout tranche from the eurozone. It will also give the country time to conclude the presidential election procedure and – if needed – even a snap election without plunging into a funding crisis.