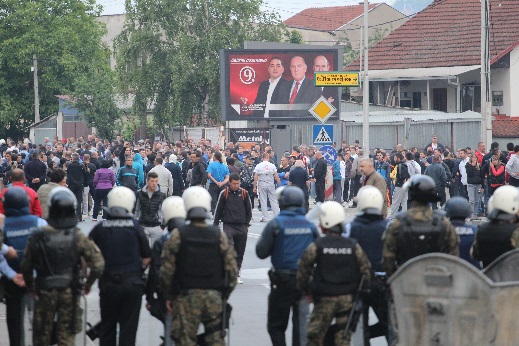 IBNA Special Report
Skopje, May 22, 2014/Independent Balkan News Agency
By Naser Pajaziti
Parties in the former Yugoslav Republic of Macedonia and the government react over the latest unrest in Skopje, following the murder of a Macedonian young man by an fellow Albanian teenager.
They call for calm and maturity, in order not to provoke the situation and damage cross ethnic relations. The calls follow the protests of the recent two days and tensions that rule in the "Gorce Petrov" quarter in Skopje, where the murder took place.
VMRO-DPMNE of the acting prime minister, Nikola Gruevski calls for the situation to be calmed. It appeals for a "rational behavior" by all factors starting from young people, their families and political subjects, in order to avoid the escalation of the situation.
"We call on all political parties not to abuse with the victim. We appeal to young people who have been expressing their discontent in the past two days and their families, to allow the state to act based on the laws. We encourage institutions to continue and guarantee law and order", reacted VMRO-DPMNE.
Albanian party BDI (Democratic Union for Integration) said that the killing of the young man represents an act that requires everyone to condemn it. According to this party, this murder doesn't have ethnic or religious motives, therefore the efforts to make it an ethnically related one, are condemnable and irresponsible.
"We condemn the vandal like behavior manifested during violent protests. We call on the citizens to preserve the calm and restrain themselves and contribute along with institutions to restore law and order. Cross ethnic cohabitation requires our commitment, without mentioning the fact that the individual behaviors of each one of us can have a direct impact on these relations", states the reaction of BDI.
The opposition blames the government about the current situation.
"This government closes its eyes in front of problems, makes calculations with them, hides them and then uses them for political gains", said the general secretary of the Macedonian Social Democratic League (LSDM), Oliver Spasovski.
LSDM demands from prime minister Nikola Gruevski and minister of Interior, Gordana Jankulovska to "put an end to manipulations and start working", said Spasovski.
PDSH (Albanian Democratic Party) in opposition considers the recent situation as a manifestation of hooliganism.
"We're a party terrified by hooliganism, theft, fire and lack of reaction by police or institutions to prevent the burning down of the properties of Albanians and their businesses", said PDSH lawmaker, Imer Aliu. "This is happening in circumstances when  parties that were voted by the people, are not thinking about the people. How can a party like BDI defend the people, while its only objective is to defend itself and enrich itself at the detriment of Albanians", said Imer Aliu on behalf of PDSH, commenting the violent protests and attacks against the properties of Albanians in "Gorce Petrov".
Government in Skopje has issued a statement where it appeals for calm. It demands from the citizens not to be victims of destabilizing scenarios and not to contribute in ruining cross ethnic relations. The government underlines that state authorities "will tackle any destabilizing and vandal elements that want a crisis in the country". /ibna/