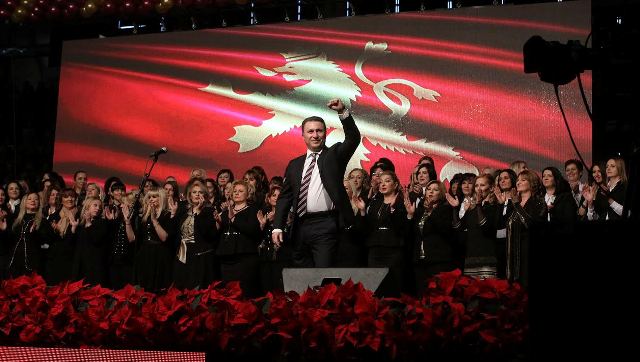 Skopje, 25 January 2016/Independent Balkan News Agency
By Naser Pajaziti
The two main political parties in FYR Macedonia have intensified accusations among each other. Leader of VMRO-DPMNE and former PM Nikola Gruevski has accused the opposition last evening during the annual conference of the Women Union of this party, of trying to seize power through foreign services.
According to him, 24 April is the day when the people will have their say through the free vote and will send into retirement officials, who according to him, have imposed themselves in an artificial way.
Gruevski said that a person who is a criminal and who has been trained abroad, can never be prime minister of the country.
"After this case, lots of time must go by before a politician will try to attempt to come into power through lies and by collaborating with foreign services", Gruevski declared.
But, SDSM (Macedonian Social Democratic League) has responded to Gruevski's accusations. According to this party, the language used by Gruevski shows the fear that he feels because he will be held accountable for the criminal acts carried out by him and his family in the past ten years in power.
"Nikola Gruevski admitted it himself: It's impossible for a criminal and a liar to become a prime minister. For this, Gruevski is not a prime minister and he will never be. His speeches and his imaginary 'foreign services" show how scared he is", SDSM says.
These messages have been exchanged at a time when through the European envoy, Peter Van Houte, the international community is trying to restore dialogue between majority and opposition, in order to offer a solution for the electoral lists, reforms in the media and other issues which have not been addressed before the elections.
While the majority comprised of VMRO-DPMNE and BDI dissolved parliament and scheduled the elections to take place on 24 April, SDSM led opposition and also other small parties of the Albanian community to react against this date and to demand the postponement of the elections. According to them, the elections must take place once the voters' lists are cleared of any irregularities and the necessary conditions for free media are in place.
The opposition demands adjustments in the voters' lists as it suspects that there are over 200 thousand fictitious voters. /ibna/