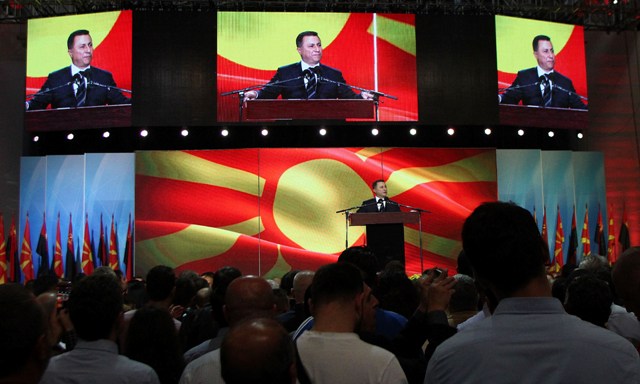 Skopje, 17 October 2016/Independent Balkan News Agency
By Naser Pajaziti
The leader of the largest Macedonian party in FYROM, VMRO-DPMNE, Nikola Gruevski has once again introduced the nationalist card ahead of the 11 December elections. In a rally held yesterday in Skopje, he demanded massive support to win an absolute majority in parliament, because according to him, this is the only way to prevent Albanians from advancing in FYROM.
"I am convinced that our victory will be so big that we won't need coalitions. In these elections, VMRO-DPMNE needs to win 63 MPs. They are ready to give up on everything. They're ready for dual language in this country and also sell out the state's interests", Gruevski declared.
Speaking on the Special Prosecution, Gruevski said that he has believed that this institution was formed with the intention of shedding light on the wiretapping affair, but according to him, it turned into the main instrument of the opposition party SDSM and its leader, Zoran Zaev in their fight to seize power.
The leader of the party in power, who is being investigated by the Special Prosecution for abuses during the time that he was PM, mentioned a number of investments and promised that many new jobs will be opened in the next four years.
Meanwhile, leader of SDSM, Zoran Zaev has commented the declaration made by the leader of VMRO-DPMNE Nikola Gruevski.
"Gruevski has demanded 63 MPs. There will be 63 MPs, but they will belong to the opposition which will unite with the citizens. Time of autocracy has ended. This is the time of freedom, justice, democracy and unity. Macedonia will defeat the regime", Zaev said.
Experts of political developments say that Gruevski's vocabulary aims at earning more support among the citizens through the nationalist card.
"Gruevski's request to win 63 seats in parliament shows that VMRO's nationalism is becoming more and more aggressive, in order not to forge coalitions with Albanians and also to lower the requests made by political parties", says political analyst, Alajdin Demiri. /balkaneu.com/