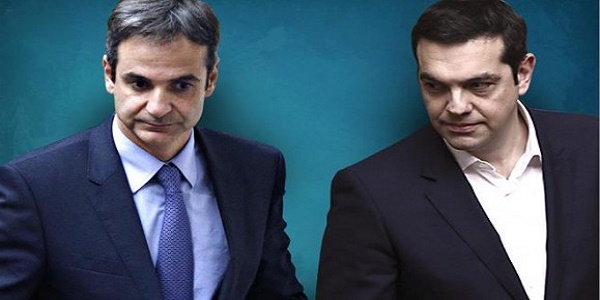 An opinion poll by Kapa Research for newspaper "Ethnos on Sunday" put main opposition New Democracy 4.7 points ahead of ruling SYRIZA. The left-wing party led by Alexis Tsipras came in at 20.3 percent, with the Kyriacos Mitsotakis-led conservatives polling at 25 percent.
The poll showed support for neo-Nazi Golden Dawn stands at 7.9 percent, followed by the center-left Movement for Change on 6.4 percent and the Communist Party on 5.6 percent. Minor opposition parties Independent Greeks (ANEL), To Potami and Union of Centrists all fell below the 3 percent threshold for entry to parliament.
The survey pointed increased polarization of the Greek political landscape, as 60 percent of New Democracy's supporters said they will be voting based on their desire to end SYRIZA's stint in power. Similarly, 56 percent of SYRIZA supporters said they will vote to alert a right-wing resurgence.
The vast majority of respondents (62 percent) also told Kapa Research pollsters that they would like an early general election to be called. Specifically, 44 percent said a vote should go ahead before May 2019, while 18 percent preferred a triple vote in May (general, local and European elections).
Meanwhile, the government and main opposition continued to go head to head over a series of contentious issues, including economic policy, education and developments in efforts to settle a name dispute with neighboring FYROM.
The Prime Minister's office issues an announcement criticizing main opposition leader Kyriacos Mitsotakis, focusing on a speech he delivered on Saturday in the city of Tripoli. The government stresses that the ND leader will not be allowed to return the country to the bailout-era of austerity.
Analysts point out that the government is intent on flagging its economic record in the run-up to next year's general election. Focus will be on the "positive measures" the Finance Ministry plans to push through this month, to add to the successful campaign to convince Eurozone partners further pension cuts are unnecessary.
As far as future policies are concerned, the government is expected to attempt to avoid implementing a legislated reduction of the income tax-free threshold set to be implemented in 2020. In an interview on Sunday, Finance Minister Euclid Tsakalotos did not rule out abolishing the unpopular measure.
In contrast, the main opposition appears to be escalating its attack on the government's record in the economy. Kyriacos Mitsotakis told supporters in Tripoli that the next election will be about ushering in political change, away from policies that "left Greeks poorer" and pushed the economy "back into deep crisis".
The center-right politician reiterated his party's key argument that the government's series of handouts are funded by excessive taxation. On Friday, during the launch of the party's 12th annual conference, Mitsotakis is expected to present his manifesto for helping those worst hit by the government's tax hikes, including middle-class families, the young and the jobless.
Earlier, Prime Minister Alexis Tsipras and Mitsotakis are expected to clash in parliament on Tuesday, during a debate of a draft bill providing for the abolition of legislation introducing pension cuts./IBNA