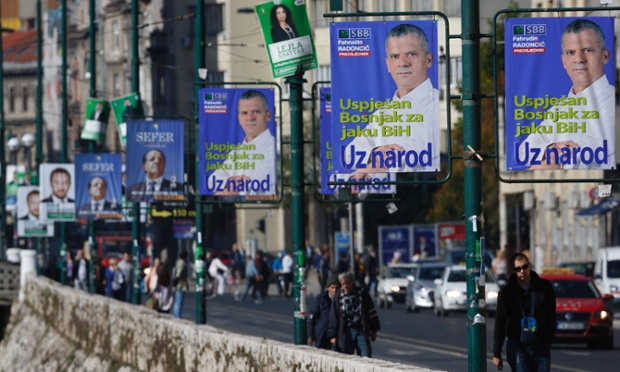 By Mladen Dragojlovic – Banja Luka
Ten biggest political parties in BiH, which is one of the poorest countries in Europe, spent over BAM 7.5 million (about EUR 3,75 million) on advertising during one month of the electoral campaign.
This information was published on Wednesday by the non-government organization "Transparency international BiH" (TI BiH), which followed and analyzed campaigns of selected parties, including advertising in electronic and printed media and other expenses.
"Results of monitoring show that these parties just for media space on 10 TV stations and nine printed media spent BAM 3,6 million (about EUR 1,8 million). If we add expenses for the adds, the total amount of advertising in these media stands at BAM 4,5 million (about  EUR 2,25 million), is staed in Transparency international BiH press release.
TI BiH also made an estimation of expenses of billboard advertising, based on several agencies price lists, and the conclusion is that on this form of advertising parties spent about BAM 3 million (about EUR 1,5 million), so the total amount of advertising expenses reaches 7,5 million BAM.
"It is necessary to clarify that we didn't include all media as well as all types of advertising. If we include expenses of election rallies, small billboards, flyers, ads on buses and taxi vehicles etc, these estimated expenses would be significantly bigger", said TI BiH in a statement.
Political parties spent the biggest amount on electronic and printed media and expenses on internet were smaller. The biggest amount of money for advertising in electronic and printed media, about EUR 435,000, paid the biggest coalitions in Republic of Srpska, the "Alliance of Independent Social Democrats" and the "Democratic People's Alliance". Next on list is the "Democratic Action Party" (SDA), which is mostly Bosniak and the biggest in Federation BiH, with EUR 430,350. RS coalition "Alliance for Changes", spent a total of EUR 387,500 on this type of advertising.
TI BiH emphasize in a statement that they monitored Croat parties, Peoples party "Work for Progress" and Croatian democratic community (HDZ BiH), but they spent almost nothing on advertising during the campaign. "Work for Progress" didn't have any ads on the media that were monitored and HDZ BiH had two publication of the advertisement.
What's more, TI BiH monitored election rallies and usage of public resources for political advertising of certain parties and all information will be submitted to the Central election commission BiH.