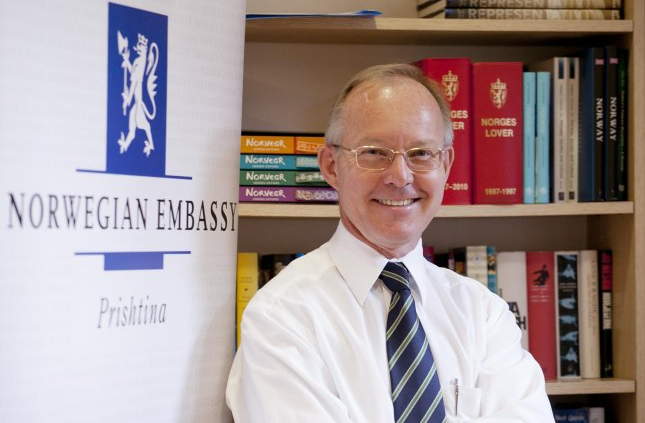 Pristina, September 11, 2014/Independent Balkan News Agency
By Elton Tota
Norwegian ambassador to Pristina, Jan Braathu, says that he hopes that MPs in Kosovo will find a constructive solution in order to solve the political and constitutional crisis.
Taking as an example the country that he comes from, ambassador Braathu says that parliament or the government must be presided by the candidate from the largest party or the second largest party, if the first one doesn't have sufficient votes.
"People must understand that parliament must become functional and that parliament is an institution. Parliament doesn't belong to political parties, but a state institution, the responsibilities of which fall upon political parties. I hope to see such thing here. When the court says that MPs must find a solution, then this is what should happen. Every elected member of parliament has the individual responsibility to work in a constructive way in order for parliament to be functional and serve the state", said Braathu.
"The fact that PDK and opposition bloc continue to claim that they are entitled to elect the speaker of parliament, is a warning that the political crisis in Kosovo may continue", adding that political parties must show a constructive approach to overcome this situation. The ambassador adds that elections must be the last option.
"The holding of fresh elections is expensive for the government of Kosovo, but also for other countries to send monitors here… But, what's more important is the possibility for the situation to become tense. I'm not talking about cross ethnic tensions, but tension between Albanians of Kosovo. The questions that arise are these: 'Do responsible parties and leaders want such thing? What if the elections are held and we still have a crisis? What have we achieved?' Nothing, besides the possibility of mounting tension and spending 7 million Euros from the budget, which is not enough even to meet the needs of the citizens of Kosovo", said he.
"I hope that all parties will understand that it's in the best interest of the citizens of Kosovo for political parties to find a solution. We can wait for someone to address to the Constitutional Court again, but this may take time, but we will see what happens. Seriously, the July session was a circus and I hope that it will not be repeated", said Braathu. /ibna/