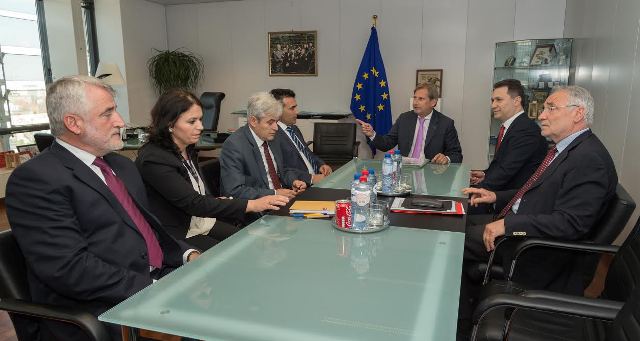 Skopje, 8 June 2016/Independent Balkan News Agency
By Naser Pajaziti
The main four political parties in FYROM are making fresh attempts to sit on the table of negotiations in order to discuss a solution of the political crisis and to decide on a date for the new elections.
Leader of the largest opposition party SDSM (Macedonian Social Democratic Union), Zoran Zaev has proposed a plan with two points for the solution of the crisis and that it must be implemented until June 18.
"First of all, the Constitutional Court must confirm the constitutionality of the law on Special Prosecution and allow its work without obstructions. All those who have been arrested must be freed and no pressure must be exerted on the citizens. If these points are put into practice, then the Przino agreement can survive", Zaev said.
Zaev said that there are also other conditions such as the adjustment of the voters' list, the creation of an interim government and the reform in the media.
The largest party in power, VMRO-DPMNE said that SDSM is delaying the process of finding a solution and that it is scared of heading to elections.
"VMRO-DPMNE is ready to hold elections at any time, but we will not allow for the citizens to be held to ransom by bargaining with the election dates. VMRO-DPMNE agrees that SDSM should be part of the government which will hold free, fair and democratic elections", the head of VMRO-DPMNE leading committee, Nikola Popovski said.
BDI (Democratic Union for Integration) is open for talks, but it is against ultimatums or conditions imposed by the opposition.
"BDI believes that ultimatum is not the right method to solve political crises. We prefer dialogue between the sides involved in this crisis", said BDI's MP, Talat Xhaferri.
Leader of PDSH, Menduh Thaci said today, after a meeting with the German envoy, Johannes Haindl, that he was pessimistic about a solution of the crisis.
"I don't think that the efforts of Mr. Haindl's efforts will yield any successful results. The fact that the government is again comprised of the two parties, VMRO and BDI, has complicated the situation a lot", Thaci said, adding that he doesn't believe that there will be a meeting between the leaders of the four political parties.
But other parties said that they do not rule out the possibility of a new meeting between the leaders of the four parties which signed the Przino Agreement on June 2 last year. /balkaneu.com/