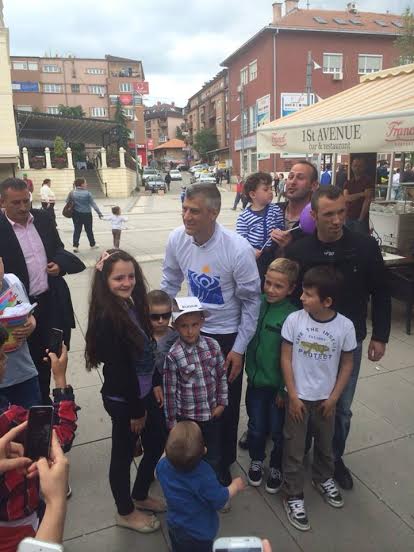 IBNA Special Report
Pristina, June 3, 2014/Independent Balkan News Agency
By Elton Tota
The electoral campaign for the early parliamentary polls in Kosovo hasn't spared even children.
An observation of the intensive electoral activities during this campaign has shown that the participation of children in many rallies is widespread.
IBNA's correspondent informs that children are being used to fill these electoral rallies with people.
Massive media propaganda has also included children from the age of 6 to the age of 10 in the heated political debate. They are  under the constant influence of their parents, who are party members or state employees, whose job depends on the result of the election.
The president of the Council of European Youth of Kosovo, Avdullah Hasani told IBNA that children under the age of 18 are being used massively for the electoral campaign.
He says that the use of children for the electoral campaign, in different manifestations of a political character, is against the International Convention for the Rights of Children.
"Council of European youth of Kosovo demands from parents not to allow their children who are under the age of 18 to be used for the electoral campaign. Children are considered as the future of the country, but don't abuse with them and use them for political purposes, because you're deforming their personality", says Hasani.
Mr. Hasani hopes that this appeal will be supported by parents and political subjects.
"I hope that all political parties, candidate MPs, parents will react to this appeal about this age group, seeing it not only as a beautiful image, but by seeing on them our future", adds Hasani.
The presence of children in electoral activities is criticized by the Swiss organization "Terre Des Hommes", which protects children.
"It's unacceptable for political parties to use children during their electoral activities", says Natyra Avdiu, representative of "Terre Des Hommes".
According to her, this affects their right to decide on their political conviction and their right of privacy.
"In these cases, these right can be violated due to the fact that children can be identified as supporters of a particular party since a young age, without fully realizing the importance of their participation there", says Mrs. Avdiu.
Currently, the presence of children in the electoral campaign is prohibited by law. Mrs. Avdiu considers this as a problem and says that there must be legal incentives for this.
"Legislation in power which relates to elections doesn't regulate the issue of children in a specific way. This fact must be included in the electoral reform. Central Election Commission must find ways to punish parties for these actions. Even this time, political parties do not comment on this issue, while experts say that the participation of children in the campaign is prohibited by law and puts a question mark to the success of the electoral process.
The professor of constitutional right, Fatos Rushiti told IBNA that the participation of children in electoral processes is a serious legal violation.
"The participation of children in electoral activities is a misuse of not only children, but also of the electoral process. In these cases, all competent institutions must be informed and measures must be taken. We have to do with a flagrant violation. Respective institutions and the Ombudsman must react. Every abuse with children puts a question mark on the success of the electoral process", says Rushiti. /ibna/