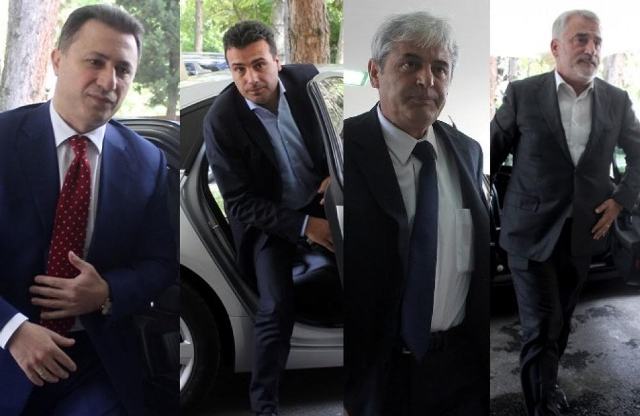 Skopje, 6 October 2015/Independent Balkan News Agency
By Naser Pajaziti
Political parties in FYR Macedonia have not yet been able to meet their obligations stemming from the June 2 agreement for the solution of the political crisis.
Today's the last deadline to strike a deal on the Electoral Code, but political parties are yet to come up with an accord.
The disputes relate to the voting of the Diaspora, but also to the new Central Electoral Committee and its transformation through a new law.
Yesterday, political parties have not met in order to finalize the agreement on the electoral code.
The leader of the Macedonian Social Democratic Union (SDSM), Zoran Zaev, declared that some of the parties do not have a serious approach in the process of talks.
"The agreement must be implemented entirely. What we're seeing now is an attempt by political parties to evade their responsibilities and to buy time", Zaev declared.
But, the party in power, VMRO-DPMNE declared that the opposition is delaying the process of the agreement. Antonio Milososki, senior representative of this party said that VMRO-DPMNE has a constructive approach in the process of negotiations and has unclear proposals for the Electoral Code, but also for the voting of the Diaspora.
"It's SDSM which is delaying the process, for not coming up with clear proposals", declared in a brief statement, the senior representative of VMRO-DPMNE, Antonio Milososki.
The deadline for the approval of the electoral code and the elections expires at midnight. Today, political parties will continue their negotiations to come up with a consensual solution. Amendments in the electoral code during the coming days will pass for voting in parliament. The process of talks is being monitored by the EU emissary, Peter Van Hoyte.
Political analyst, Naser Ziberi told IBNA that if the agreement is made in the last minute under strong pressure, is not productive and it allows political parties to accuse each of having reached damaging compromises.
"I believe that such agreements of the last minute are not productive, because they are approved in extraordinary circumstances. The new electoral code is one of the most important pillars of the agreement and with it, political parties will remove all irregularities and suspicions for rigging during the electoral process", Ziberi said.
Another point of the June 2 agreement is the election of ministers from the ranks of the Macedonian opposition, who will be part of the current government. SDSM must propose until October 20 the Minister of Interior and the Minister of Social Affairs, who will become part of PM Nikola Gruevski's cabinet. Besides them, the opposition will also be given three posts of deputy ministers, including the deputy minister of Finance.
This cabinet will be in office until the end of the year, when PM Nikola Gruevski is expected to stand down and an interim government to be set up. This government will be responsible for the organization of the 24 April 2016 elections. /ibna/