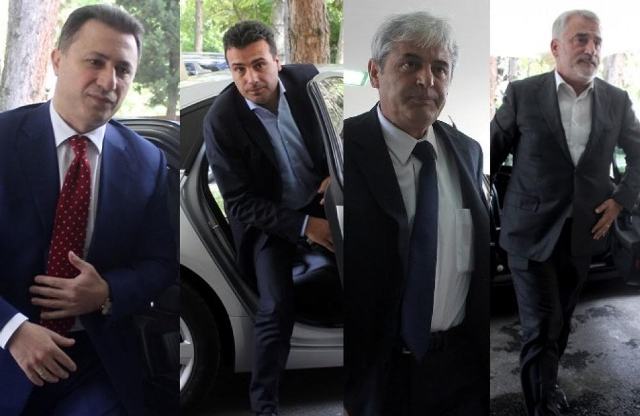 After the publication of the first results of the 11 December elections, debates have already started for the creation of the new government. Opposition party SDSM (Macedonian Social Democratic Union) has called on all political parties that won seats in parliament not to enter a coalition with VMRO-DPMNE of Nikola Gruuevski.
Leader of SDSM, Zoran Zaev has demanded for voting to be repeated in several areas due to electoral rigging that he claims has happened.
"The regime must not form a government. With the exception of VMRO-DPMNE, we demand all other parties that were voted by the citizens, not to ignore the will expressed by the citizens of Macedonia who voted for changes. Nikola Gruevski must not create a government", Zaev said.
VMRO-DPMNE has replied to the leader of SDSM by saying that he's not the one to determine who forms the government.
Member of this party, Vlatko Gorceb declared that VMRO-DPMNE's victory is clear like crystal and that Zaev must not even think about scenarios which could cause instability for the country.
"Let us congratulate each other in a European way and let's put a stop on this scenario which aims at mining stability in Macedonia. 453 thousand people will not allow Zaev and his people deprive them of this victory", Gorcev said.
The leader of the largest party in the country, VMRO-DPMNE, Nikola Gruevski said in his victory speech that the sooner the government is formed, the sooner it will work to remove divisions between people and build a country which will advance toward the EU.
A decisive party for the new government will be the Albanian party BDI (Democratic Union for Integration). But this party declared that it will wait the declaration of the official results. The spokesman of BDI, Bujar Osmani said that what's important is the fact that the platform should be a basis for coalitions and not individuals.
This party won 10 mandates, which along with the mandates of VMRO-DPMNE would create a government with the votes of 61 MPs.
But it is not yet known if there will be three small opposition parties in this government, although they have said that they will not be part of a government with Nikola Gruevski in it and other people who are being investigated by Special Prosecution. In the 11 December elections, VMRO-DPMNE won 51 seats, Macedonian opposition led by SDSM won 49 seats, BDI won 10 seats and other Albanian opposition parties won 10 seats. /balkaneu.com/