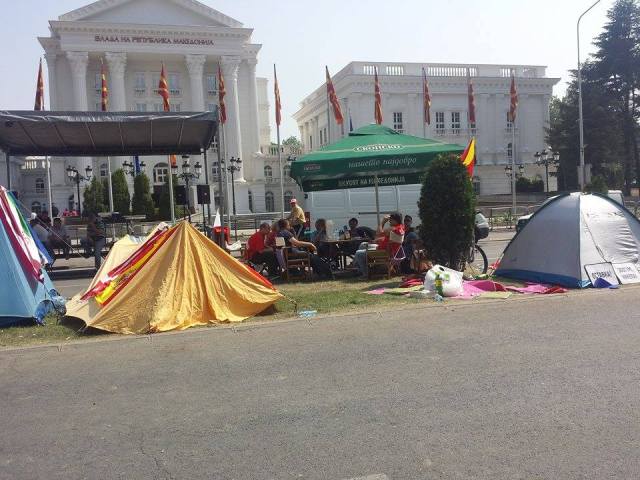 Skopje, 20 May 2015/Independent Balkan News Agency
By Naser Pajaziti
Macedonian opposition has spent the third night in front of the government building. Its activists, supported by tens of citizens, are staying inside of their tents in front of the government to demand the resignation of PM Nikola Gruevski and his government.
This protest also includes different recreational and musical activities, but also political speeches against the current government. The most senior officials of the opposition are amid these supporters.
"We want to show that Macedonia can be different. In this country there are people who want the change and the truth is on our side. People saw how the elections were won, how the citizens were forced to vote and how judges have been elected", declared the vice chair of SDSM, Radmila Sekerinska.
Actress Irena Ristic is a supporter of the protest and the demands of the opposition. "It's impossible for a person who is not an expert, to conduct reforms in education, because this means a brutal experiment with students, which are our future. This government and these people must leave in order for hope to be restored", said Irena Ristic for IBNA.
Opposition supporters say that they will remain in front of the government until Gruevski and his team leave.
But on the other hand, supporters and activists of the party in power have also set camp in front of parliament and this was the second night. They say that they are protesting in response to the protest of the opposition.
Ivan S, a student, says that this protest is against the opposition's scenarios to cause unrest in the country.
"We're here to defend democracy and the will of the majority of voters in our country. We want to show that in contrast to the opposition, who demands the resignation of the government, there are also many people who back Gruevski's government", declared Ivan S.
But protesters of both sides avoid comments and media declarations. A part of local portals say that the party in power, VMRO-DPMNE is encouraging its supporters to join these tents in exchange of money.
Albanians are not part of these organizations. Many of them have backed the protest of the Macedonian opposition for the resignation of PM Nikola Gruevski.
Supporters of the party in power, VMRO-DPMNE have also set up camp in front of the commune of Strumica, which is chaired by leader of SDSM, Zoran Zaev. They are staying there demanding Zaev's resignation from the post of mayor, accusing him of financial abuse and corruption.
International community is following these events, taking place in both political camps. The declaration approved in the meeting of the leaders of the four political parties stressed the necessity of calm protests without incidents. /ibna/