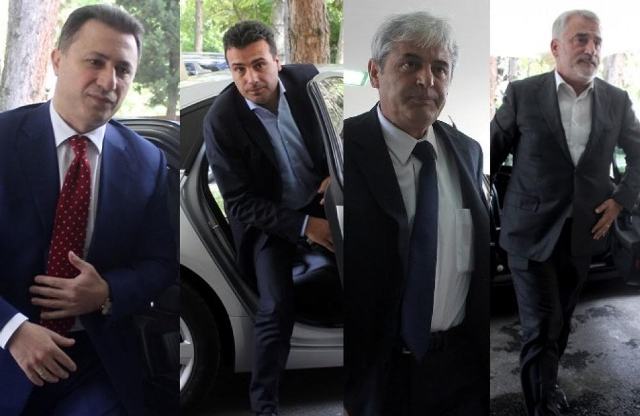 Skopje, 14 December 2015/Independent Balkan News Agency
By Naser Pajaziti
The political crisis in FYROM continues and political parties are yet to find compromise for the implementation of the June 2 agreement. VMRO-DPMNE in power and SDSM (Macedonian Social Democratic Union) are disputing on the State Election Commission and the big reforms.
The election of the three experts of the Central Election Commission has caused disagreements between the parties, due to the proposed names. As a result of this, leaders of VMRO-DPMNE, SDSM, BDI and PDSH will meet in Skopje tomorrow in order to strike a deal.
PM Nikola Gruevski accuses SDSM for attempting to postpone the early elections, which will be held in April of next year. Gruevski says that this party is blocking the work of the work groups for the election of the experts who will be members of the State Election Commission, in order for the opposition to gain time and postpone the elections, as according to him, the opposition is not ready to face VMRO-DPMNE.
Commenting on the meeting which will take place on Tuesday, Gruevski said that he cannot predict its outcome, as the meeting depends on SDSM's strategy.
On his part, leader of SDSM, Zoran Zaev declared yesterday that the elections will only be held if all standards are delivered.
According to Zaev, VRMO-DPMNE and Nikola Gruevski are scared and that this is being reflected in the delays of the process. Zaev said that on 24 April, no election thefts will be allowed, as it has been the case in the past.
"Agreement for the sake of reaching an agreement is not an option. There must be a clean pre electoral and electoral process. The June 2 agreement cannot be avoided. The Special Prosecution has been set up along with the interim government, while Nikola Gruevski is expected to leave in a few days", Zaev declared.
Leader of BDI (Democratic Union for Integration), Ali Ahmeti called for the situation to be unblocked and for compromise to be found between political parties on pending issues.
The European intermediary in these political talks, Peter Van Houte is expected to arrive to Skopje today, after staying in Brussels during the weekend for extra consultations in order to assist political dialogue in Skopje. /ibna/