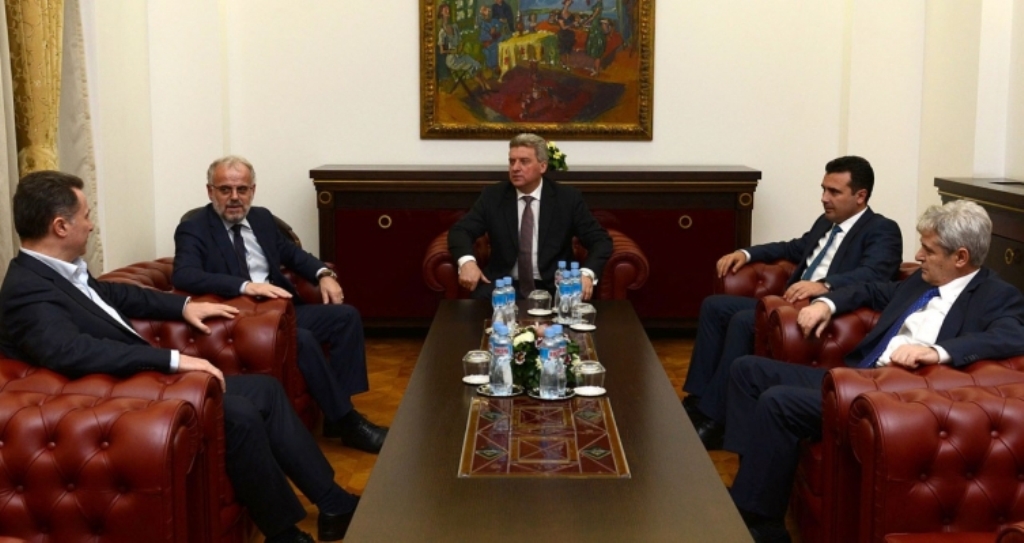 The tense political situation in FYROM, the arrests and the lifting of the immunity of 6 opposition MPs belonging to VMRO-DPMNE party, have led to a meeting last night between political leaders. The meeting was called by president of the country, George Ivanov.
According to the statement released by president's Ivanov office,  this meeting, which saw the participation of the assembly speaker, Talat Xhaferi, PM Zoran Zaev, leader of VMRO-DPMNE, Nikola Gruevski and leader of BDI, Ali Ahmeti, discussed ways into overcoming the tense political situation that the country is going through.
"The participants exchanged their views on the current events and discussed ways on how the country can overcome this situation", the president's statement says.
Ivanov said that the sides have agreed that it's necessary for political players and civic society to engage in order to find consensus for national dialogue and to normalize the political situation.
Today, parliament of FYROM is expected to decide on lifting the immunity of the six VMRO-DPMNE MPs. These MPs are accused of allowing protesters to get inside Parliament on the night of 27 April, when crowds of demonstrators entered in the legislative institution and used violence against members of parliament.
Last night, VMRO-DPMNE continued with its protests in front of the Criminal Court. Protesters requested the immediate release of the arrested people and said that all of this is political revenge. /balkaneu.com/