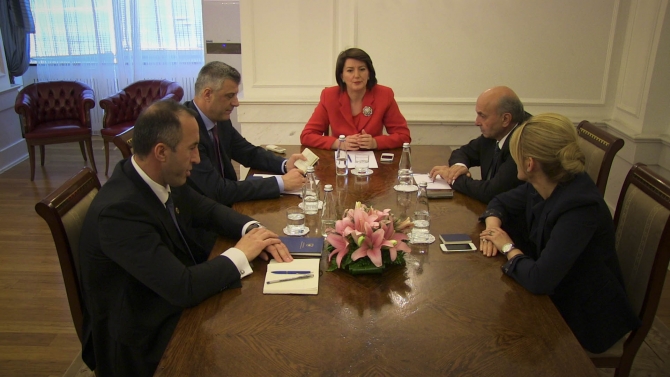 Pristina, May 6, 2014/Independent Balkan News Agency
By Elton Tota
Prime minister of Kosovo, Hashim Thaci declared today that a political agreement has been reached to dissolve parliament and hold elections on June 8.
Mr. Thaci made these comments after a meeting held today between the President of Kosovo, Atifete Jahjaga and leaders of the main political parties in the country.
"We have agreed for the dissolution of parliament to be made in tomorrow's plenary sitting and we have agreed on discussing for June 8 to be the date of the early elections".
President Atifete Jahjaga said that she was informed on the steps that will be taken for the holding of the early elections.
"As a President of Republic, I will continue to be a factor of the political unity in the country and all my actions will comply with the Constitution and laws of Kosovo".
The leader of the Democratic League of Kosovo (LDK), Isa Mustafa has agreed for the elections to be held in the first half of June, namely June 8.
"We met today with the President of the Republic of Kosovo in relation to our positioning on the elections. We expressed our positioning that parliament is non functional and we believe that the best solution would be for the elections to be held through the dissolution of the parliament of Kosovo", declared Mustafa.
"As a party, we have agreed to join the incentive and tomorrow, to hold a session for the dissolution of parliament. We also agree on holding the elections at the start of June", added the leader of LDK.
Leader of the Alliance for the Future of Kosovo (AAK), Ramush Haradinaj said that the best way to head toward early parliamentary elections is through a non confidence motion on the current government or by discharging parliament.
"We talked about the possibility of heading toward the elections and the different options as to how such thing can be achieved. There are several options to head to elections. It's the resignation of the prime minister, non confidence motion against the government, which we will favor and the dissolution of parliament. AAK is in favor of holding elections in the first half of June, but it could also move for the motion, if there's no dissolution. We remain open for this one", said Haradinaj.
Meanwhile, the New Kosovo Alliance (AKR) was represented in this meeting by the vice chairwoman of the party, Mimoza Kusari Lila. According to her, AKR doesn't want elections without political stability.
"AKR regrets these hasty elections. So far, we haven't had sufficient information that we will have a credible electoral process. We don't think we should move from one unstable situation to another. Therefore, we must have assurances for a good electoral process", said Kusari. /ibna/