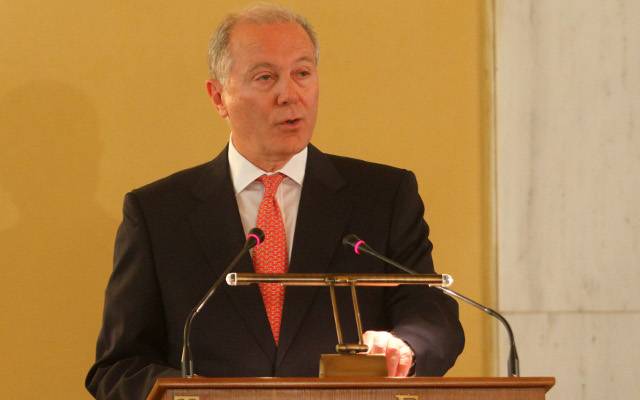 By Lefteris Yallouros – Athens
Bank of Greece Governor Giorgos Provopoulos urged the Greek government to stick to reforms in the economy.
The Governor's Annual Report said 2014 is a year of recovery for the country's economy which is set to exit a 6-year recession. However, further sacrifices are needed if the goal of exiting the ongoing crisis is to be reached.
Provopoulos warned against complacency, saying "the fiscal adjustment must continue and be maintained on a permanent basis for the primary surplus to grow, debt sustainability to be safeguarded and for the climate of confidence to be consolidated."
Echoing the views of many foreign analysts lately, the BoG governor cited political instability as a major risk factor that could derail the recovery effort.  "Clashes and polarization ahead of local and European Parliament elections" could prove detrimental to the economy, Provopoulos warned. Characteristically, Provopoulos cited a need for "the elimination or minimization of the risks and uncertainties that might be triggered by deterioration in the social and political climate."
The Governor also revealed that the result of a stress test conducted by BlackRock will be finally published next week. Provopoulos met with troika officials in Athens earlier this week to determine the exact amount of additional capital Greek banks will need following their stress tests.
Sources say the needs of systemic banks are estimated by the BoG to be around EUR 5 billion; enough to be covered by money left in the bank recapitalization fund. Should the troika agree with the figure put forth by the Greek Central Bank, as expected, the road for the return of systemic banks to private investors will be wide open; Eurobank especially as the delay has put off investors looking to take part in its planned privatization.
The troika wanted the test to be based on a Core Tier 1 capital adequacy ratio of 9 percent, the same as that used in the first round of domestic health checks in 2012, mainly due to the high rate of bad loans in the portfolios of Greece's systemic banks. The lower reference rate will mean lower capital needs for Greece's four main banks.
Furthermore, after the stress test result goes public, bankers will be able to lend companies and households, offering much needed liquidity to the real economy.
Provopoulos, however, did warn bankers that practices of the past must be forgotten and only healthy, modern, export-oriented businesses should be financed from now on. The Governor called for a shift in the economic growth model towards the production of internationally consumable products and services as well as the values of saving and ivesting.