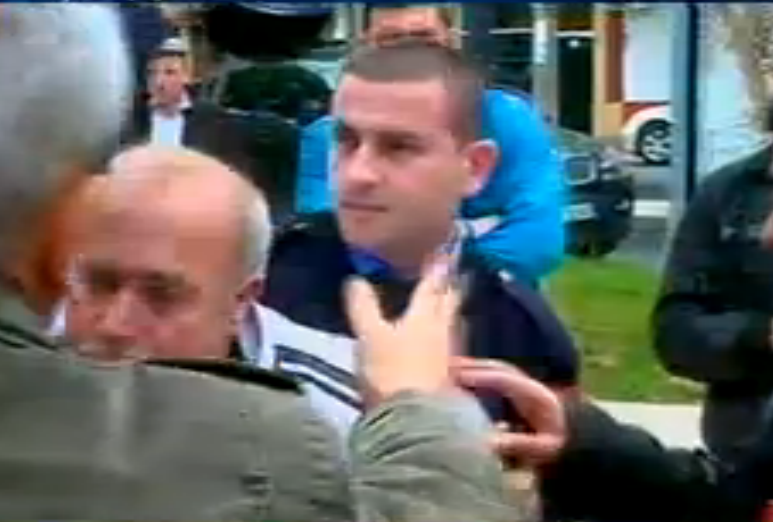 Tirana, April 24, 2014/Independent Balkan News Agency
Dramatic moments have been lived this morning in the center of Tirana in front of the Albanian Parliament, when a former political dissident, tried to set himself on fire (photo) in front of many people and many TV cameras which were broadcasting live.
Kujtim Gaziu, 65 years of age, took out a bottle filled with petrol from his coat, sprayed his head and body with it and then took out a lighter. It was a mere moment which prevented the fire to be lit, as several police officers who were nearby managed to stop him.
The former dissident fell on the floor and then he was accompanied by police at precinct 1 in Tirana.
The illness of his daughter, the difficult economic situation that he had been facing for a while, the age and the aggravated psychological situation due to these problems, led to Kujtim Gaziu to attempt a public suicide.
Tens of former political dissidents had gathered today in front of Parliament, which today holds the regular weekly proceedings.
"I don't want to live any more. I'm unemployed. My daughter is ill, I don't have money for medications and no money to send her to hospital. I don't want to live any more", said Gaziu while the TV was broadcasting these images live.
Authorities didn't react on this event.
It's not the first time that former political dissidents engage in such acts. Even when the country was governed by the right wing majority, several former political dissidents set themselves on fire and one of them died. They protested about the long delays in the compensation that the state has engaged in making since the '90s.
Kujtim Gaziu too has been waiting for 20 years to be compensated by the state for his and his family's years of suffering for political reason during the communist regime. /ibna/