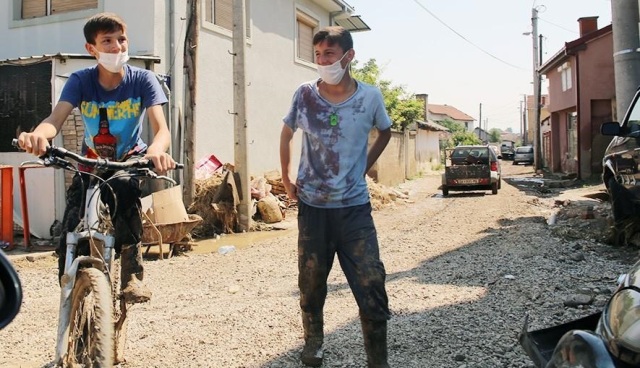 Skopje, 15 August 2016 /Independent Balkan News Agency
By Naser Pajaziti
Macedonian Assembly approved yesterday evening by 58 pro votes and one vote contrary, the conclusions concerning the flood situation in Skopje area. The opposition parties have contradicted them, as the two majority parties VMRO-DPMNE and DUI (Democratic Union for Integration) did not second several proposals of the largest opposition party MSDL (Macedonian Social Democratic League.)
According the final approved conclusions, the Assembly demanded from state institutions to carry on with their commitment in cleaning and improving the situation in flooded areas.
The government will reimburse all the afflicted citizens, within ten days and legal action will be taken against anyone who takes advantage of the current situation for personal profit.
The assembly demanded the execution of inspection, disinfection and the partial evacuation of the population from Skopje flooded areas.
Parliamentary group coordinator of MSDL, Goran Sugareski stressed that cause of their opposition to the final conclusions is the turn down of their proposal for issuing emergency financial assistance to the afflicted families.
"An immediate damage evaluation must be effectuated and every family must be delivered 1500 Euros in advance. But, most importantly, the institutions in charge must be held accountable for their concessions", stressed Sugareski.
DPA deputy, Imer Aliu stressed that the institutions in charge are to blame for the flood and we are not dealing with a natural disaster.
"These were accumulated concerns due to infrastructure lack of investments. These areas were not provided with drainage systems, roads and river beds", stressed Aliu.
VMRO-DPMNE deputy, Antonio Milososki said that the flood was caused by bad weather and it was a natural catastrophe.
"The bad weather does not choose neither states nor the time when it comes to natural disasters. This time it happened in Macedonia and alas caused 22 casualties, but we didn't witness the state solidarity to those who were afflicted by the calamity.
Therefore I thank you 600 soldiers committed every day to their work in the area, assisting the residents in jeopardy. I thank you 300 police officers, committed to their every day work in the afflicted area. I thank you the "Red Cross", the communes and the public utility companies" declared the deputy of ruling party, Milososki.
The initiative for the session concerning the flood calamity was taken by the opposition, whereas the government in a weekend meeting has taken a decision to compensate 100 percent the residents of flood areas. /balkaneu.com