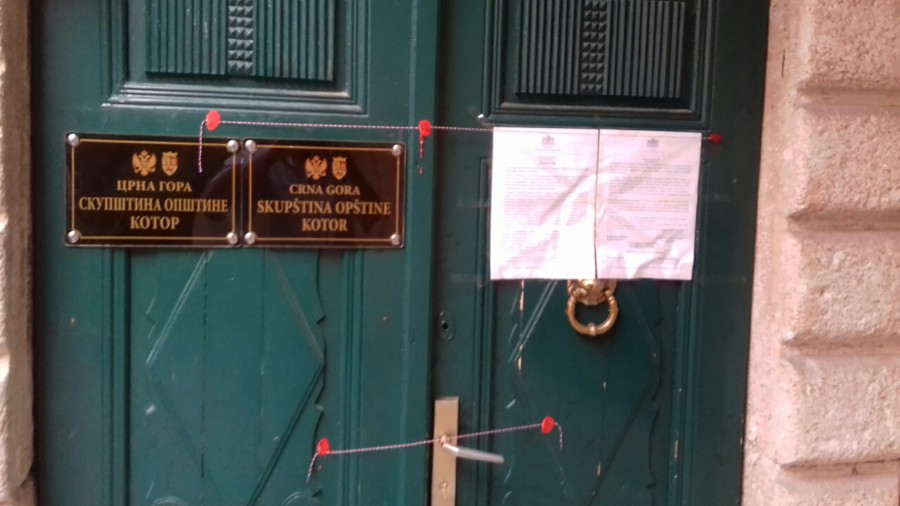 The presidents of the Municipality and the Municipal Assembly of Kotor (SO), Vladimir Jokić and Dragica Perović, sealed the premises of the local parliament after it was announced that a session would be held today, which they believe was scheduled illegally.
A parliamentary majority of 17 deputies of the Democratic Party of Socialists, Social Democrats, Liberal Party, Croatian Civil Initiative and Bruna Lončarević scheduled the continuation of the session of the SO of Kotor, with the dismissal of Jokić on the agenda.
In the document signed by Jokić, Perović, Milivoje Samardžić, Branko Ivanović and Branko Kovačević, it is written that today, and in accordance with the Law on Local Self-Government, physical protection of the official premises of the SO was performed.
According to him, the aim is to temporarily disable DPS deputy in Kotor's Parliament, Željko Avramović, in performing the actions he announced for today.
The municipal leadership, led by Jokić, filed a criminal complaint against Avramović on Thursday, because as they said in the official announcement, he had unlawfully scheduled the continuation of the session of the Kotor city parliament.
"Members of the Democratic Party of Socialists (DPS), Social Democrats (SD), Liberal Party (LP), Croatian Civil Initiative (HGI) and Bruna Lončarević will decide on the latest situation in Kotor during the day," said the Chairman of the DPS Municipality Organization, Željko Aprcović.
Aprcović told the media that he did not know who sealed the Municipality Assembly premises Kotor and that during the day he would decide how he would respond to this situation.
He stressed that the Parliament of Kotor is the home of all citizens of Kotor and their representatives, as well as that the assembly hall today, on a working day, should be open.
Aprcović said that the majority in the municipal Assembly is oppressing the minority, not allowing them, in a legal procedure, to say what they think regarding the initiative for the dismissal of Jokić.
"We do not know until when the door of the Municipal Assembly of Kotor will be locked," Aprcović said./ibna