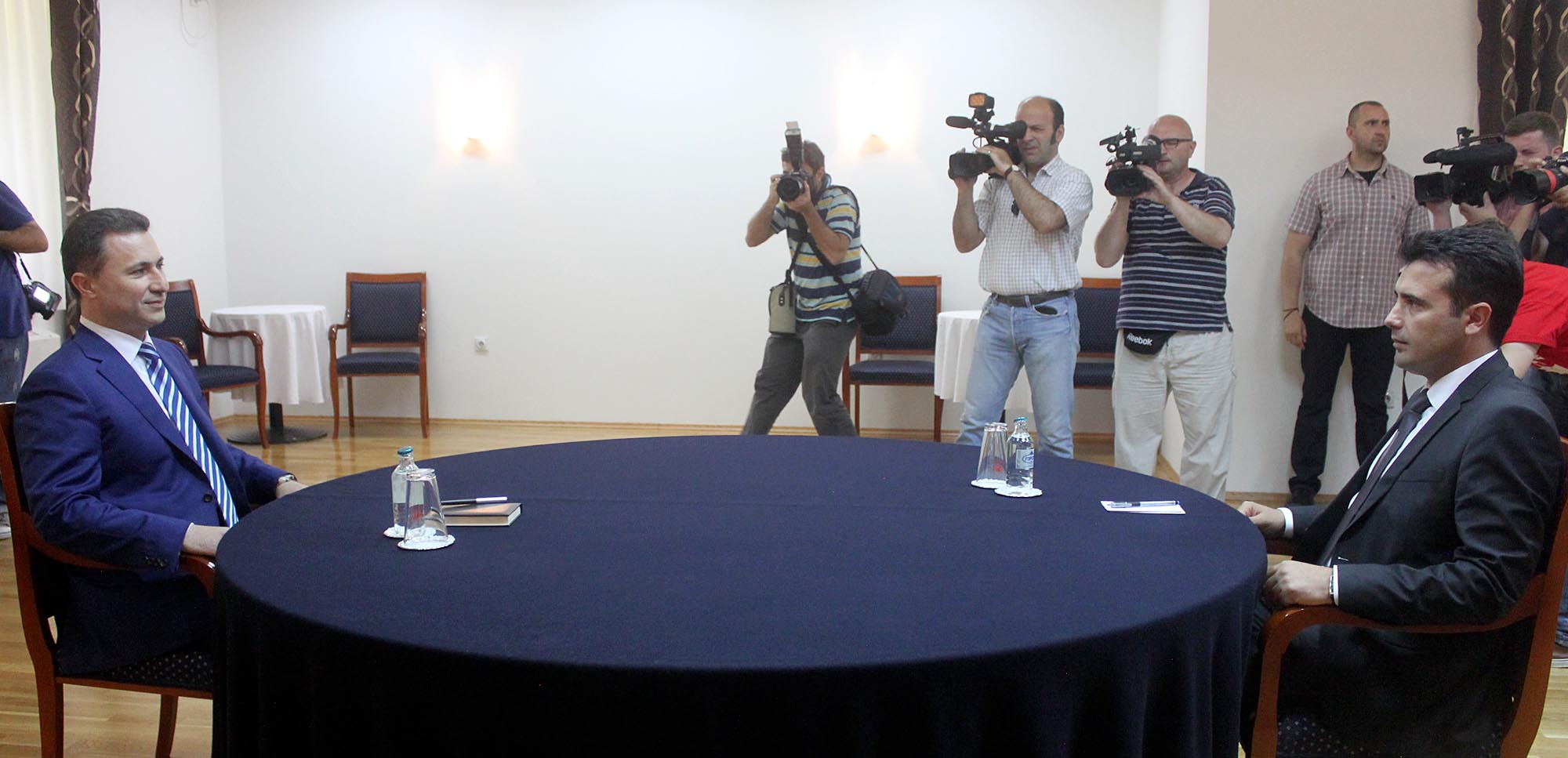 IBNA Special Report
Skopje, September 22, 2014/Independent Balkan News Agency
By Naser Pajaziti
Political dialogue in FYR Macedonia continues to suffer a crisis and there are no positive signs by either majority or opposition. This crisis is also being reflected ahead of the publication of the annual progress report of the European Commission. The reports issued up until now and the calls of European officials encouraged political dialogue in order to overcome the political crisis. The conflict and political disputes between the two large political parties, VMRO-DPMNE in power and LSDM (Macedonian Social Democratic League) in opposition, has caused a deep political crisis and institutional and parliamentary blockade.
LSDM, united with other Macedonian opposition forces, continues its activity outside institutions, after it boycotted parliament when it decided not to recognize the elections, by considering them as rigged by the current party in power, VMRO-DPMNE. Opposition bloc immediately demands the formation of a technical government and the holding of fresh elections. But, such request has been rejected by VMRO-DPMNE of prime minister Nikola Gruevski.
"We're ready to discuss all pending issues, but not the request for new elections", said the spokesman of VMRO-DPMNE, Aleksandar Bicikliski.
Leader of VMRO-DPMNE, Nikola Gruevski and that of LSDM, Zoran Zaev, launched, two months ago, the negotiations which aimed at unblocking the political crisis, with the EU brokerage. But, in spite of these positive efforts, no agreement has been reached and up until now and nothing is known about their next meeting.
"Currently, this political crisis has no serious consequences in the domestic plan, but in the long term, it can have negative consequences, because the two political blocs have different positioning which can cause more powerful polarizations. This situation is damaging the interests of the citizens and of the state, as in this situation, the country needs consensus and domestic compromise for the issue of the name dispute, regional issues and global issues which have an impact in the state strategic interests", says university professor, Nikola Dujovski.
Political analyst and head of the Albanian Diplomatic Academy in Tetovo, Arsim Sinani, told IBNA that this situation implies a dangerous isolation and the international community sees a fragile political mosaic with irresponsible political protagonists. "International community is serious in its calls to encourage political dialogue. Brussels wants a country with a European image and not a country with an archaic mentality", says Sinani.
Professor Dujovski says that a little time is left until the publication of the report and parties must show flexibility and a spirit of cooperation, by making minimum efforts in order to encourage and start a political dialogue.
Peter Stano, a European Commission spokesman, declared last week for media in Skopje that Brussels is worried for FYROM and that this country has not issued positive signals to solve the problems that it has.
"If the country doesn't address the European Commission's concerns in an adequate way, concerns relating to the freedom of media and political dialogue, then it's too difficult to help the country move forward", declared Stano.
There are also concerns in Skopje that the country may not be recommended for the launch of accession talks. Government authorities admit this, and among them is deputy prime minister for European integration, Fatmir Besimi.
"It would be a very bad thing if the country is not recommended. It's too important for the country to remain focused in addressing the complaints stressed in the report and also the pending issues with neighboring countries, Greece and Bulgaria", said Besimi.
Annual progress report of the European Commission is expected to be announced next month and this has increased the interest of political parties.
On the other hand, even this year, Brussels is expected to address the same problems, lack of political dialogue, independence in the judicial system, freedom of the media, implementation of the Ohrid Agreement, cross ethnic relations, election reform and political dialogue. /ibna/