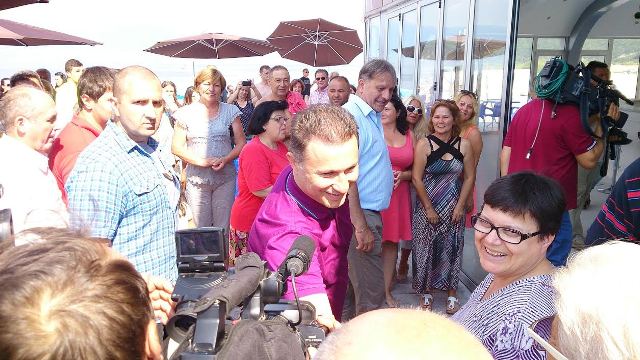 Skopje, 10 August 2015/Independent Balkan News Agency
By Naser Pajaziti
Although the political class in FYR Macedonia is on holiday, the Prime Minister and leader of VMRO-DPMNE, Nikola Gruevski continues with his intensive meetings in several communes of the country, to promote  different government projects and announce new investments.
This takes place at a time when the main political parties in the country agreed last week to make a pause until the end of this week and then continue negotiations for the implementation of the agreement which would see the solution of the political crisis in the country, which will be finalized with the creation of the temporary government at the end of December and the holding of April 24, 2016 elections.
But the opposition and political analysts in Skopje say that Gruevski and his party are holding an intensive pre election campaign, which according to them, they're abusing with the state budget money and other services.
"This practice must no longer exist and the current government must not be allowed to abuse with the citizens. We all know how the real situation is", says political analyst Kekenovski.
As of last week, Gruevski had made promises for pension increase of up to 5% from September, increase of social aid, the realization of infrastructural projects and construction of new water supply systems in several areas of the country.
Gruevski has denied this being a campaign, stressing that this is  part of the current government program.
Expert of legal affairs, Mitasin Beqiri told IBNA that parties must focus on the implementation of the political agreement and according to him, there must not be abuses with this.
"I think that instead of propaganda and promises, parties in power must engage in the implementation of the political agreement, where the main points relate to the amendment of the electoral code, the adjustment of voters' lists, preparations for the April elections, preparations for the registration of the population and compromise for the functioning of the Special Prosecutor, who will investigate criminal offenses that have been unveiled in the wiretapping affair", Beqiri declares.
Citizens say that political players must understand that the people need work and ethnic harmony.
"We don't want any more tension, because we're fed up with the crisis. Youth is leaving the country as they don't see any perspectives in the country as a result of this corrupt and irresponsible political class. But it seems that someone people to leave the country and the people who govern can expand their power. It's important to achieve political peace, to hold the elections and may the winner govern the country", says the 73 year old, Pero N. from Skopje.
After a short pause, the main political parties in the country, VMRO-DPMNE, BDI, SDSM and PDSH are expected to return to the table of negotiations in order to implement the agreement reached on June 2 and a protocol finalized on June 15, which foresees the appointment of a Special Prosecutor, the changing of the electoral code and the adjustment of electoral lists, the resignation of PM Nikola Gruevski, the creation of an interim government at the end of December and the holding of early general elections on April 24, 2016. /ibna/