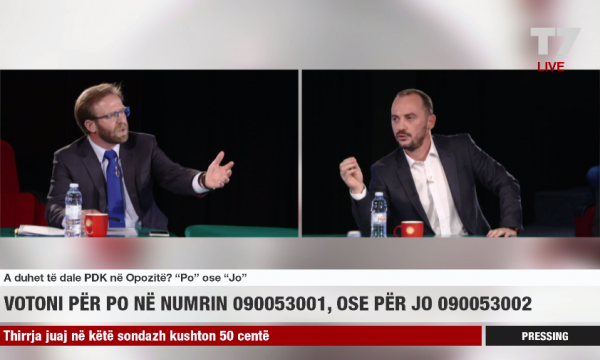 A debate on TV channel T7 between candidates of two parties running for a seat in Kosovo parliament on 6 October early elections escalated in physical clash after Haki Abazi from Vetevendosje and Dardan Molliqaj from the Social-Democratic Party (PSD) brawled as they were leaving the TV studio on Wednesday night.
The heated debate during the show between Molliqaj and Abazi continued as the two were leaving the T7 show Pressing and got into a fight as they went off-air. Haki Abazi who recently joined the Vetevendosje said that he was leaving the hall of the TV channel when Molliqaj attacked him.
But Molliqaj denied the physical clash saying that nothing has happened outside the studio, adding that it was just a heated debate that continued also when the two were leaving the studio. The Vetevendosje movement who in previous legislature was in opposition, called Molliqaj a "bandit" and condemned the attack on their member. Molliqaj was a senior member of Vetevendosje who in 2017 with a group of other activists split the movement and joined the Social-Democrats. This has created a bitter faction between Vetevendosje headed by Albin Kurti and Molliqaj's faction, reflected during the pre-election campaign.
The Kosovo Police stated that they have interviewed the suspects after Abazi reported the case to the police. The host of the T7 show Pressing, Leonard Kerquki, took Facebook late on Wednesday to explain that as guests were leaving the show during a commercial break while preparing for the second part of program he heard noises outside studio and saw Haki Abazi lying on the floor.
"I hurried up at the hallway and I saw Mr. Dardan Molliqaj entering the elevator accompanied by Rexhep Hoti who was also part of the election debate. I had no chance to speak to Molliqaj or Hoti. I had no chance to see what happened because the incident occurred outside the studio. Abazi told me that he was physically assaulted by Molliqaj and his companion," Kerquki said. This is the first serious incident as Kosovo is moving towards early elections set to be held on 6 October./ibna