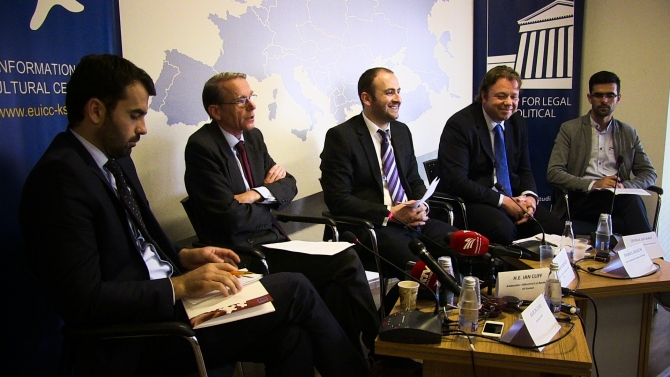 Pristina, October 13, 2014/Independent Balkan News Agency
By Elton Tota
The new government of Kosovo must address the problems laid out by the Progress Report. The new parliament must make steps forward in relation to the report and be happy with just the ratification of the laws.
This was said during a debate organized by the Group for Legal and Political Studies by participating panelists.
Thomas Gnocchi, head of the political sector of the EU Office to Kosovo has stressed that in spite of the progress made with the liberalization of the visa regime, the failure to form the new institutions is a problem.
"There are still many challenges that we must address. We need a new government which will be focused on the election reform, reform in the public administration and then the economic reform. The economic reform of the Progress Report shows that the reform in this domain is more than necessary", said Gnocchi.
"The application of the law has always been a critical issue, but there's no progress in this domain. We need concrete efforts in order to address these findings", he adds.
The British ambassador to Kosovo, Ian Cliff, said that this report contained both positive and negative comments. But, according to him, no domain has seen any satisfactory achievements.
According to him, the failure to create the institutions has had an impact on the report, while stressing that the new government must address its problems.
"There are several positive and negative that this year's Progress Report has pointed out for Kosovo. There has been progress in the process of stabilization and association and local government and parliamentary elections have been praised. There has also been progress in the process of the liberalization of visas".
Meanwhile, Agron Demi from the GAP Institute said that the word progress has different nuances, while the government considers it as real progress and this is why this is misunderstood.
According to him, 51 domains have seen low progress, while only two domains have seen positive progress.
"We're trying to address problems by approving laws. Next year, we must have a plan and budget to address the challenges of this report. We must not spend the entire budget on the construction of roads", said he. /ibna/