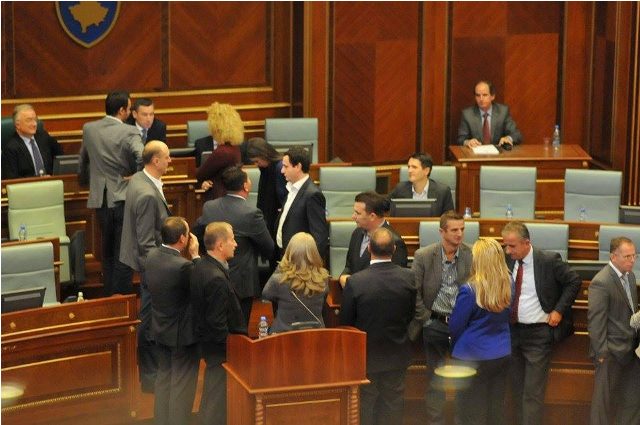 Pristina, 26 October 2015/Independent Balkan News Agency
By Elton Tota
Political crisis in Kosovo continues to escalate. In the last parliamentary session, once again the opposition let off tear gas to make it impossible for Members of Parliament to carry on with the normal order of the day. Meanwhile, on Saturday, a large number of protesters clashed with police after midnight.
Political parties in power, Democratic Party of Kosovo and Democratic League of Kosovo, have criticized the recent political actions of the opposition, the representatives of which have used tear gas inside of parliament in three occasions.
The highest authorities in the country and international institutions have criticized the opposition, urging it to use parliament in order to convey its concerns.
US ambassador, Greg Delawie said that tear gas and violence have no place in the parliament of Kosovo.
"Tear gas and violence have no place in parliament. Such actions are destroying the future of Kosovo", he said.
Meanwhile, the opposition has pledged to continue and block normal parliamentary proceedings, until the agreements reached in Brussels between Kosovo and Serbia, in the framework of the dialogue to normalize relations, are annulled.
Three opposition parties delivered a news conference where they asked for the resignation of the Prime Minister of Kosovo, Isa Mustafa and the speaker of Parliament, Kadri Veseli.
"As an opposition, we are aware that you ruined parliament and the government is illegitimate. Thus, we will continue until damaging decisions are annulled. Annulment or resignation", the three opposition parties declared.
Following the violent scenes inside and outside of parliament house last weekend, the parliamentary majority did however manage to approve the bill on mental health. Now, there will be three days of pause in order to reflect on the situation and attempt to find a solution. The holding of proceedings under police protection is not being seen as a solution by the international community either.
IBNA learns that since the start of this week, the representative countries of the QUINT, will hold meetings with PM Isa Mustafa to see if the government has an plans on addressing the opposition's demands. /ibna/