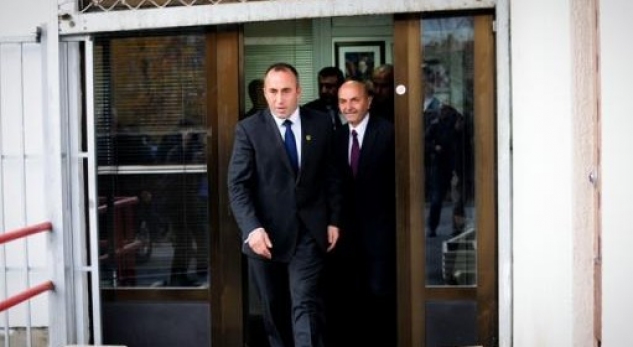 Pristina, June 17, 2014/Independent Balkan News Agency
By Elton Tota
Political efforts continue in Kosovo to secure a majority in the parliament of the country, which would lead to the formation of the government.
While Democratic Party of Kosovo (PDK) insists that it's up to the party that has won the elections to elect the speaker of parliament, the opposition, which united last week, has another plan on how to ruin every incentive launched by PDK of Hashim Thaci.
Democratic League of Kosovo (LDK), Alliance for the Future of Kosovo (AAK) and Incentive for Kosovo have joined forces to govern the country and have decided to be together in parliament as a single parliamentary group, in order for the agreement signed a few days ago, to be implemented.
Vice chairman of AAK, Ardian Gjini says that the post election coalition has the necessary seats in parliament and that the new speaker of parliament will be nominated by them.
"We will announce a single parliamentary group at the moment when the results are certified", declared Gjini.
Nevertheless, before the start of the procedures for the constitution of the new structures, the final result of the elections must be certified.
Spokesman of the Central Election Commission (CEC), Valmir Elezi says that an excellent work is being done at the Ballot Counting Center (BCC).
According to him, Tuesday will mark the start of the counting of conditional ballots, mail ballots and ballots of people with special needs.
Therefore, based on this dynamic, the counting process is expected to be concluded soon.
"The CEC will announce the final results once conditional ballots, ballots through the mail and ballots of people with special needs are counted. Once the final result is announced, political subjects and candidates can file their complaints in relation to the result. CEC must wait for the decisions on the complaints before proceeding any further", said Elezi.
Based on procedures,  once the result is certified, parliament of Kosovo will gather in session within a month.
The first session is called by president Atifete Jahjaga, in consultation with parliamentary parties.
But, given the current situation, things may be complicated since the very first session, when the election of the speaker of parliament takes place.
Even in this point, PDK claims that it has the constitutional right to elect the speaker of parliament, but LDK, AAK and Incentive have nominated Isa Mustafa for this post.
In this case, it's highly likely for the Constitutional Court to offer its interpretation.
Therefore, the interpretation of the Constitutional Court may decide if Kosovo will hold fresh elections or not. /ibna/