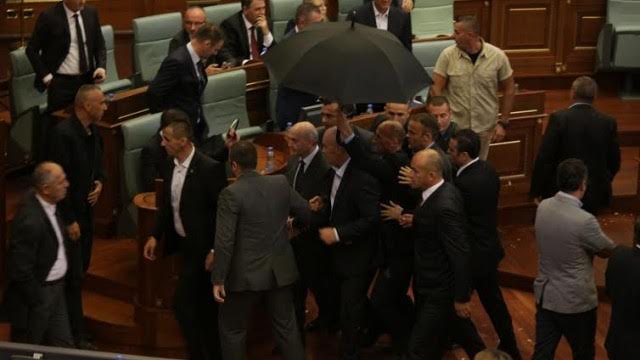 Pristina, 23 September 2015/Independent Balkan News Agency
By Elton Tota
The Brussels' agreements reached between Kosovo and Serbia have deepened the political crisis in Kosovo. In the coming days, the opposition has warned action which aims at blocking the work of the government and parliament.
Majority representatives say that the Brussels's agreements aim at normalizing relations with Serbia as a condition for the integration of Kosovo in Euro Atlantic structures. Meanwhile, the opposition says that the Association of Serb Communes threatens the sovereignty of the country.
Yesterday, three opposition MPs from Self Determination, AAK and Incentive for Kosovo, threw eggs to the prime minister, while he was reporting on the achievements of the talks between Pristina and Belgrade for the parliament of Kosovo.
Experts of the political developments in Kosovo say that both the government and opposition are to be blamed for the current crisis.
Analyst Vilhard Shala accuses the government of not being transparent about the talks with Belgrade.
"The public opinion and opposition should have been informed on the content of the agreements reached in Brussels before they were signed. The government must inform the citizens on such important issues. Otherwise, we will face numerous problems, revolts and protests", Shala says.
Shala also accuses the opposition parties on the violence manifested in the parliament of Kosovo.
"The opposition must be responsible. Nothing is gained by violent political actions. In a democracy, parliamentary debate is the best way to attain political goals", Shala says.
Political analyst, Xhemal Ahmeti says that the violence manifested in the parliament of Kosovo may turn into a boomerang for the opposition. According to him, the opposition has made an unforgivable mistake.
"On Tuesday, the opposition made an unforgivable mistake. It didn't allow public opinion to be informed on the agreements made in Brussels. Where does the opposition obtain the right to sabotage the right of expression of the prime minister of the country? What sort of freedom concept is this?", Ahmeti says.
Opposition parties have not allowed PM Mustafa to report before MPs on the importance of the agreements reached in Brussels. At the moment when Mustafa came out to report, several opposition MPs have started to attack him with eggs and this led to the session to be suspended. /ibna/