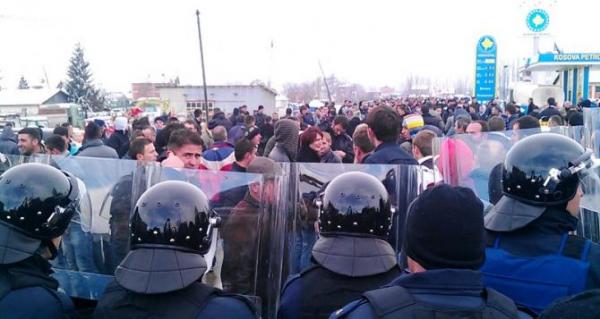 IBNA Special Report
Pristina, October 16, 2014/Independent Balkan News Agency
By Elton Tota
The failure to form institutions has made the language used by political leaders toward each other even harsher.
A few days after calling the acting PM Hashim Thaci, a political monster, the prime minister nominee, Ramush Haradinaj has continued with his accusations by considering the departing prime minister as a dictator who will fall in disgrace.
Analysts consider these declarations as natural and this language of conflict is expected to become even harsher.
For experts of political developments, the use of harsh language by political parties shows that the political conflict is becoming more intense.
They say that the situation may escalate to unrest, which would cost Kosovo a great deal. According to them, the situation in the country is taking Kosovo in a tragic and comical situation.
Prominent analyst, Vilhard Shala told IBNA that the fight for power between the two political sides will be strong.
"If the opposition manages to form the government and institutions of the country, supporters of the Democratic Party of Kosovo, which will no longer be in power, may take on the streets claiming that their constitutional right has been breached along with the will of the citizens of Kosovo. This will only be an alibi for their protest", says Shala.
According to him, the war for power will be strong, because representatives of political parties in the country consider the state as their property, in order to fulfill their personal and family interests.
"The same scenario will take place even if the government is formed by the Democratic Party of Kosovo. Opposition supporters will protest, by claiming that the parliamentary majority was not respected and that corruption, crime and poverty continue to rule in Kosovo", says Shala.
Expert of political developments in Kosovo, Fatos Rushiti told IBNA that there's nothing wrong with protests, but he recalled that there must not be situations which cause instability.
Nevertheless, he hopes that the situation will not come to protests.
He has warned that if the president doesn't send to the Constitutional Court the request to clarify section 127 of the ruling of this court, then, until the end of this week, this will be done by opposition MPs.
If until March 2015, the political crisis is not resolved, then the country is threatened by protests.
The opposition parties will back the protests. This was declared by the vice chairwoman of the Alliance for the Future of Kosovo (AAK), Donika Kada Bujupi.
In spite of the declaration issued by the vice chairwoman of AAK, Democratic League of Kosovo MP, Avdullah Hoti said that the possibility of protests has never been discussed by leaders of the bloc.
Nevertheless, even Hoti has not denied the possibility of removing Hashim Thaci from power through protests.
But, according to him, such decision requires an agreement between opposition leaders. /ibna/