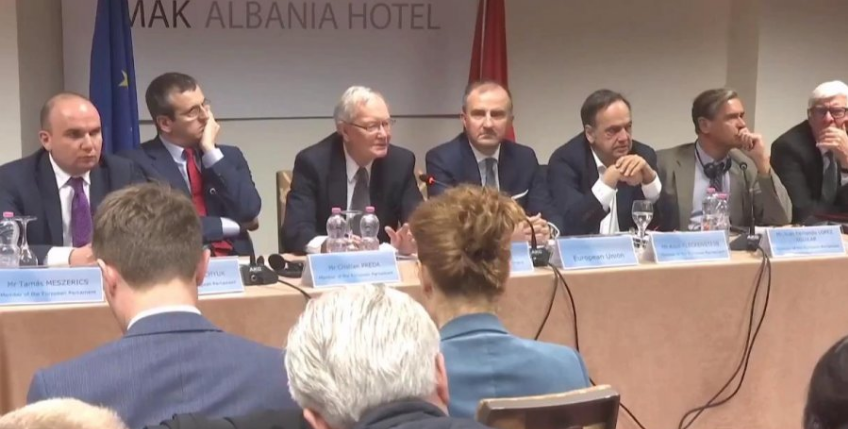 The political crisis in the country, following the decision taken by opposition MPs to resign from parliament has brought a special delegation of the European Parliament to the capital, Tirana. Seven MEPs have arrived yesterday and have started their agenda of meetings with the most senior officials in the country. Their mission is to hold meetings with all the sides and get to know the uncommon political situation that currently exists in Albania. MEPs have first met with the leaders of united opposition, Lulzim Basha and Monika Kryemadhi. Their meetings continued with Interior minister Sander Lleshaj and then with PM Edi Rama and the acting Foreign minister, Gent Cakaj. Meanwhile, today, MEPs are expected to meet with parliamentary speaker Gramoz Ruçi and to wrap up their meetings, they will also hold a hearing with civil society and in the end, they will issue an official statement about their assessment of the situation in Albania…
***
On his part, Tune Kelam, chairman of the EP's delegation and European People's Party MP has demanded the government and opposition to engage in dialogue in order to find a solution about the political crisis. "We strongly condemn the political rhetoric which sparks violence and we demand the opposition to join parliamentary life. Government and opposition must overcome this situation through constructive dialogue", said Tune Kelam.
Opposition leader after the meeting: Their concern is stability
At the end of the meeting with the European Parliament delegation, the chairman of the Democratic Party, Lulzim Basha said that the opposition cannot act like a façade for the government. "The international community is concerned about stability, but Rama destroyed the justice system in the name of stability. He has an anti-European and anti-NATO approach. Our partners will gradually realize that Rama has destroyed stability", he said. According to him, "Albania is in a difficult situation and this situation can only be solved through an interim government and free elections". Basha also said that the opposition has a duty to explain the difficult reality that Albanians are facing on a daily basis. "At this phase, when the country is aiming to open accession talks with the EU, it's our duty to explain that Edi Rama has destroyed the stability of the country through his actions", he added.
Kryemadhi after the meeting: Better things will come for Albanian people
The leader of Socialist Movement for Integration, Monika Kryemadhi declared yesterday after the meeting with MEPs that the opposition will not back off and that the path that it has chosen is the right path. "The opposition will not back off. The opposition is on the right path. Better things will come for Albanian people", she said.
STANCE
USA has distanced itself from political developments in the country
Contrary to its European partners, the United States of America is somehow distancing itself from the latest political developments in Albania. While the European Union is intensifying its declarations and meetings with the Albanian side in an attempt to solve the crisis following the decision of the opposition MPs to resign from parliament, for motives which remain unclear, the US seems to have distanced itself from these developments. US representatives do not seem to be engaging in talks with Albanian politicians, contrary to what EU colleagues are doing.