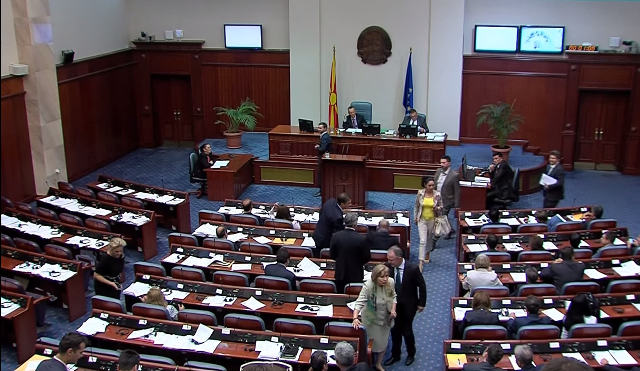 Skopje, 25 September 2015/Independent Balkan News Agency
By Naser Pajaziti
The political crisis in FYR Macedonia has led to the creation of new political parties. The latest polls indicate that most people have lost faith on current political parties.
According to the latest polls, the largest political parties in the country such as VMRO-DPMNE in power, SDSM (Macedonian Social Democratic League) in opposition and BDI (Democratic Union for Integration) continue to lead.
A survey held in June by IRI Poll, shows that almost half of the respondents no longer have faith on the current political forces.
This discontent has created a suitable environment for the creation of new political parties.
While two new political forces were formed a year ago, especially in the Albanian political camp, new incentives have been warned in the recent days.
Senior members of the Albanian party in power, BDI, have unveiled their incentive to separate from the current party and form a new political party called "Unity". Zulfi Adili, current BDI lawmaker, told IBNA that their incentive comes as a result of the lack of reforms within BDI led by Ali Ahmeti and its failures in the coalition with VMRO-DPMNE of Nikola Gruevski.
"The problem is that BDI diverted from its role as a political factor to advance the rights of Albanians. We are also not happy with the lack of reforms in the party. Seeing that we have are not able to change things, we decided to create a new political party, which must be open for all citizens", Adili declared.
The creation of two new political parties has been announced in the Macedonian camp. Businessman Trifun Kostovski warned the creation of a multi ethnic movement, which according to him, will soon turn into a political party.
Besides this, left wing movement "Solidarity" is planning on entering the electoral race. This movement is comprised of people coming from poor classes and students, which promote social policies similar to Syriza in Greece.
But this movement is still small and without an organized structure.
Zdravko Savevski from "Solidarity" says that their mission is to represent poor people and workers. "In this country, everyone has a party. The rich have more than 10 parties. Macedonians, Albanians and Turks have their own parties, but the poor do not have their party to represent them", Savevski says. According to him, there are different barriers for the registration of a political party.
Citizens seem to be open to the idea of new political players.
Edita L, a student from Skopje says that she's disappointed by current political parties and that she's in favor of new political parties. "The parties that we've seen so far did nothing. They brought the country to this situation, where the two large parties, VMRO and BDI, have absolute power. It's time for change, because these parties have ruled the country for almost 10 years and during the whole time, we've had constant crises and two early elections. I believe that there's room for new political parties", Edita L says.
New political parties are emerging, while the country is ahead of early elections which will be held on 24 April 2016. /ibna/