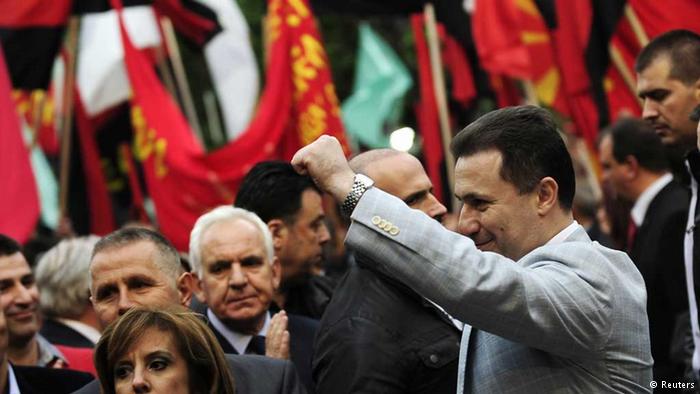 IBNA Special Report
Skopje, March 13, 2015/Independent Balkan News Agency
By Naser Pajaziti
Political crisis in FYROM continues to spark debates following the wiretapping scandal and the accusations launched against the Macedonian opposition leader for collaboration with secret services.
The aggravation of the political situation has positioned the two largest Macedonian parties in two camps, launching extreme accusations that do not help in calming down the situation.
The party in power, VMRO-DPMNE of PM Nikola Gruevski has announced that on Sunday, it will hold a rally with the citizens in order to convey political messages. Meanwhile, VMRO-DPMNE says that the rally will be massive and it will see the participation of thousands of people from all over the country.
This rally follows a rally organized by the Macedonian opposition in Skopje several days ago, where it published other registered conversations in front of thousands of citizens and foreign diplomats.
Under this atmosphere of political tension, international representatives have reiterated their calls in order for the situation to calm down and for constructive political dialogue to be restored.
Special Representative of the Parliamentary Assembly of OSCE for Southeast Europe, Roberto Battelli, declared that concerns are growing about the political developments in the former Yugoslav Republic of Macedonia.
"It's important for all political parties to contribute in order to find a solution and to work in order to secure constructive dialogue", declared Battelli.
But so far, there is no signal for the start of political dialogue. Daily newspaper "Sloboden Pecat" wrote today that PM Nikola Gruevski is planning the creation of another government with the  participation of the Macedonian  opposition, but according to the newspaper, his aim is to chair the new government. Sources close to the party in power, VMRO-DPMNE, say that in case Gruevski will have the support of the international community, then he will dismiss a large number of ministers and the head of secret services, Saso Mijalkov.
Mirjana Najcevska, a political analyst in Skopje told IBNA that there are three options for the solution of the crisis in FYROM.
"One of the options is for the government to realize that it has lost its legitimacy and to accept an interim government which would restore the legitimacy of institutions and will give way to early general elections.
The second option relates to the pressure of the international community, which will conduct an adequate solution of the problem. The third option may be painful and this means the escalation of the situation through different protests to force the government to leave", declared Najcevska.
A resolution adopted by the European parliament two days ago recommends the solution of the crisis, while the head of EU diplomacy, Federica Mogherini has been proposed as a negotiator for a solution. /ibna/