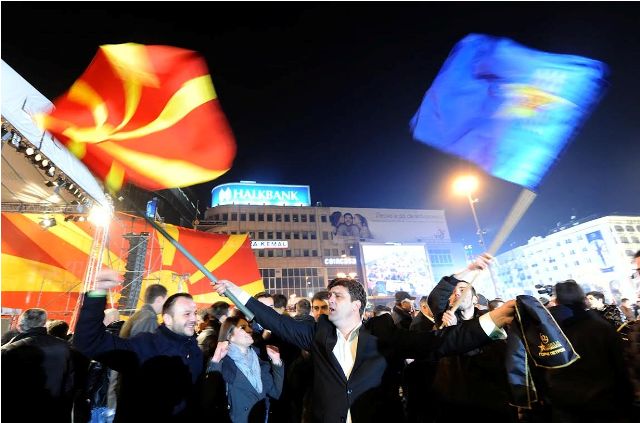 IBNA Special Report
Skopje,  March 9, 2015/Independent Balkan News Agency
By Naser Pajaziti
Political climate in FYR Macedonia and accusations between the two main political parties, Macedonian Social Democratic League (SDSM) in opposition and party in power VMRO-DPMNE, are becoming more intense.
The weekend too saw intensive developments, where leaders of these two parties launched accusations against one another.
Leader of SDSM, Zoran Zaev, said in a meeting held with citizens in Tetovo, that the government's days are counted.
"These days, weather in Macedonia has been rainy and snowy! But "bombs" have also fallen indicating that Gruevski's criminal government will collapse. It's our duty to fight for the return of freedom in Macedonia. This is our common struggle to bring back freedom and democracy to our country! The days of this government are counted", declared Zaev in a meeting held with the women of the Social Democrat Union on the occasion of March 9.
Zaev's declarations sparked the reaction of PM Nikola Gruevski, who underlined that the same as in the past, social democrats want to provoke crises in order to come to power, but he said that they will not be able to achieve this.
"SDSM cannot come into power without provoking crises, because this party has no ideas, no programs or projects to offer to the citizens. They offer scenarios and through these scenarios, they want to come into power. With the steps that he's undertaking, Zaev wants to take the citizens with him into an unknown direction, but this will not happen", said PM Nikola Gruevski.
Another development relates to the first divisions taken place within the party in power, VMRO-DPMNE. The first accusations against the heads of this party have been articulated by Nikola Dimitrov, former ambassador in the US, Holland and former negotiator on the issue of the name dispute for a short period of time. Dimitrov also has the support of several of his collaborators who have held high offices in the government.
"I feel that it's my responsibility and I will not keep quiet for as long as state institutions are captured and while democracy in Macedonia is in ruins. No day goes by without the international community issuing a declaration and its concern about the regress of our country. We will not allow VMRO-DPMNE to be delegitimized, due to a group of people who have lost their political direction", Dimitrov says.
But, supporters of PM Gruevski have reacted with their comments in social networks, by stressing that Dimitrov has not been a senior member of their party and that he is part of foreign scenarios.
The political situation is expected to become more tense, as the opposition has announced the publication of other wiretapping materials, which according to its leader, Zaev, are expected to bring to surface crimes and manipulations by the current government in the last elections. The presentation of these materials will be made in the central hall of Skopje, where citizens, diplomats and media of the country will participate.
Macedonian opposition has intensified the campaign of the publication of eavesdropping materials which relate to affairs and criminal scandals of the current government, while ministers of the government cabinet have launched an intensive campaign to promote the government efforts relating to employment, infrastructure and other projects. /ibna/