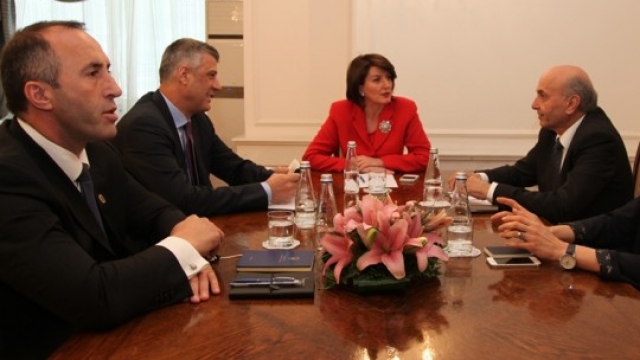 IBNA Special Report
Pristina, October 14, 2014/ Independent Balkan News Agency
By Elton Tota
Representatives of opposition parties in Kosovo are against fresh extraordinary elections. They say that they have the necessary parliamentary majority to create the new institutions.
Meanwhile, Democratic Party of Kosovo (PDK) still has hope that the political crisis can be solved through a joint governing agreement.
The vice chairman of PDK, Enver Hoxhaj still hopes that his party, along with Democratic League of Kosovo (LDK) and Alliance for the Future of Kosovo (AAK), can come to a joint government agreement, because according to him, these political subjects have served the country in important processes.
But, according to him, if the leaders of these parties do not come to an agreement and the country is obliged to head to extraordinary elections, then PDK will defeat the opposition parties.
"Without any doubt, the Democratic Party will again win the elections, given that it's the only party with a clear vision, a tangible program and a leadership which cannot be compared with that of other political parties. Therefore, I'm convinced that if there are fresh elections, then PDK will be the first political force in the country", says Hoxhaj.
Meanwhile, leader of the largest opposition party, LDK, Isa Mustafa has ruled out the possibility of holding fresh elections and the creation of a technical government.
"I don't see any reason to hold fresh elections or form a technical government. First of all, the fresh elections cannot be announced, because parliament hasn't been constituted yet. Secondly, there's no reason to hold fresh elections, because there is a parliamentary majority, which is ready to form a government", declared Mustafa.
According to him, the opposition has now created a new reality in parliament and PDK must accept this as a democratic gesture.
Mustafa said that the country is not in a deadlock, because there is a parliamentary majority.
"In every democratic country, if a party or coalition is ranked first in the elections and cannot have a majority in parliament and form the government, then it gives way to the other parties that have a majority", said Mustafa.
The member of the steering committee of the Incentive for Kosovo, Bilall Sherifi, says that the country doesn't need to head to fresh elections.
"Incentive for Kosovo believes that for as long as there's a solution, elections are ruled out", said Sherifi.
Sherifi said that not only the Incentive, but the other three opposition parties too believe that there's no need for fresh elections.
"We all know and have confirmed that the parliamentary majority has been created. All the coalition partners agree on this", says Sherifi.
But, the leader of Self Determination, Albin Kurti, declared after the meeting that he had with president Jahjaga a few days ago, that his party is ready if there will be fresh elections.
Political analysts believe that the option of coming to a political agreement with PDK and opposition bloc is more achievable than the holding of fresh elections.
Analyst Behxhet Shala says that such compromise can be achieved through international pressure, as fresh elections would bring nothing new.
According to him, fresh elections are being objected by the international community, as they do not serve the interest of Kosovo.
He says that the fact that the opposition, minorities and international community object to fresh elections, then this option is impossible.
"It's better to have a political agreement than go to fresh elections. The international community is also against these elections, along with the Serb minority and opposition parties", says Shala. /ibna/