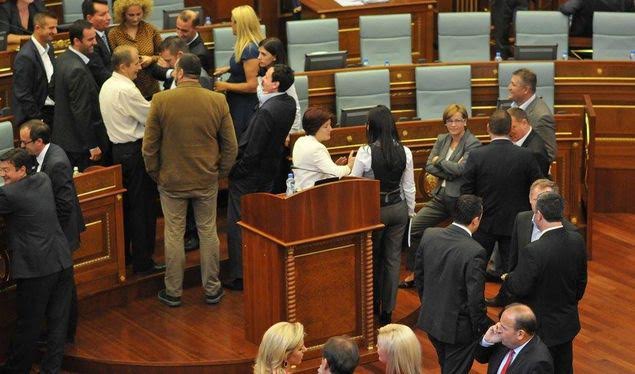 Pristina, 19 October 2015/Independent Balkan News Agency
By Elton Tota
The current political crisis may damage the European integration process of the Republic of Kosovo.
Experts of European affairs told IBNA that the lack of dialogue, political culture and the blocking of institutions can have an impact in delaying the visa liberalization process and the Stabilization and Association Agreement.
Professor of European law, Llokman Murtezani told IBNA that political stability and political culture are a condition for the integration of Kosovo in the European Union.
"The Stabilization and Association Agreement says that those countries that aspire to become members of the European Union must have sustainable institutions and political stability. Dialogue and political culture are a very important principle. In case the situation doesn't become stable, Kosovo will risk the European integration process", Murtezani said.
According to him, the crisis may be overcome through joint talks between political leaders, otherwise, the country may head to extraordinary elections.
"Fresh elections may have a high cost. First of all, they will damage Kosovo's budget and then, they will also be reflected in the aspect of European integration, economy and security", he said.
Maja Kocijancic, spokeswoman of the EU head of diplomacy, Federica Mogherini said that the EU condemns the repeated acts of violence in parliament and the clashes that took place in the streets of Pristina.
"Political differences can only be addressed through dialogue in parliament and within institutions", Kocijancic said.
Meanwhile, deputy Minister of Integration, Ramadan Ilazi has not commented if the blockade in parliament will have an impact in Kosovo's agenda of European integration.
However, he says that this agenda requires consensus, because once SAA is signed, it must be ratified in parliament by 2/3 of MPs.
Meanwhile, Kosovo's PM, Isa Mustafa called on opposition parties not to destroy institutions.
Mustafa said that the opposition is proving to be absurd and that its actions have nothing to do with democracy.
"In spite of the opposition's objections, I don't intend to resign. Resignation means failure. The coalition is stable and needs no fresh elections. The elections will be held in 2018", Mustafa said. /ibna/