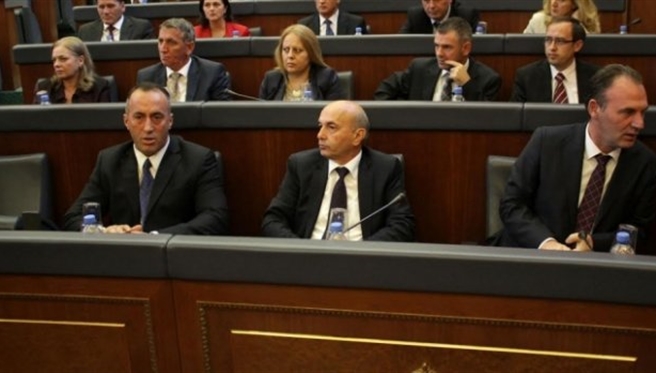 Pristina, October 9, 2014/Independent Balkan News Agency
By Elton Tota
Opposition MPs in Kosovo have gathered on Thursday in the Parliament of Kosovo to discuss about the solution of the institutional crisis in the country.
This session was called by 62 MPs and the session was chaired by Teuta Rugova, an MP from the ranks of LDK.
After this session, the leader of the Alliance for the Future of Kosovo, Ramush Haradinaj, who has been nominated by the bloc as a prime minister candidate, said that the session that was held issued a message according to which the parliamentary majority has a solution.
"The product of this session is the joint declaration of MPs with the confirmation that the solution is in parliament. Thus, we have the solution, we have the parliamentary majority and we are able to elect the speaker", said Haradinaj.
Vjosa Osmani MP has criticized the PDK lawmakers, by saying that they are to be blamed for this situation and the failure to elect the new institutions of the country.
"Those who are scared today to come to parliament, those who speak of democracy every day, have shown how much democracy and development they have brought to the country and for this, we can ask thousands of households in Kosovo, who live in extreme poverty today. We can ask businesses that are put under pressure, judges and prosecutors who are not allowed to work in an independent way and citizens who bear the heavy burden of the corruption of public officials, installed by the outgoing government", said Osmani.
Opposition bloc insists on its positioning that parliament is the only place where the political crisis is solved.
Leader of Self Determination, Albin Kurti has launched a number of accusations and criticism against the Democratic Party of Kosovo and its leader.
He said that PDK in minority is preventing the creation of institutions by the majority.
"During last term, the government has constantly fought the constituted parliament, now it's trying to delay the constitution of parliament. In a controlled state, parliament is unnecessary. In a controlled state, there's a government without parliament. Therefore, the constitution of the parliament of Kosovo has been made difficult. PDK says that it was the first party, but the minority cannot lead. The majority can and the majority it's us", said Kurti.
Meanwhile, head of PDK, Hashim Thaci said that today's meeting of the opposition bloc was an unlawful meeting.
After the meeting of the steering committee of PDK, Thaci said that they talked about the possibility of the creation of the institutions of Kosovo.
Thaci called on political leaders to sit down and agree on the formation of the institutions of Kosovo, based on the Constitution, laws and the June 8 election result. /ibna/