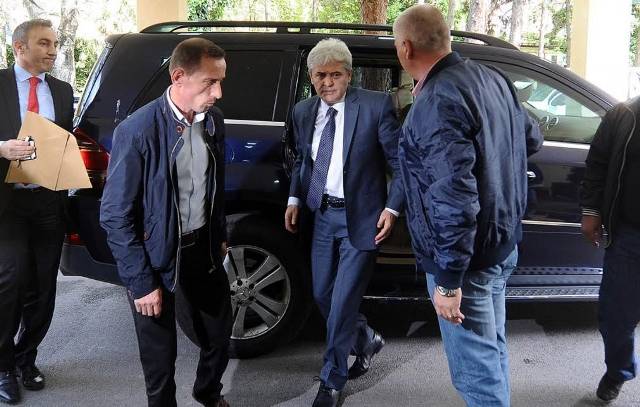 Skopje, 16 December 2015/Independent Balkan News Agency
By Naser Pajaziti
Leaders of four political parties in FYR Macedonia, have reached an agreement on the State Election Commission. They have agreed on appointing three independent candidates, who are experts and who will be part of the commission.
The disputes between leaders of VMRO-DPMNE, SDSM, BDI and PDSH kept the process of the implementation of the June 2 Agreement blocked for several weeks.
The members of SEC are: Atanas Umurov, Rexhep Peokpuca and Aleksandar Cicakovski.
Immediately after the agreement, the leaders came up with a statement and called on parliament to vote the new composition of SEC and make all preparations for the elections which are scheduled to take place on 24 April 2016.
President in this meeting were also US ambassador Jess Baily, EU ambassador, Aivo Orav and European envoy, Peter Vanhoute.
"I hope that this will be a good start for the preparation of the April elections. Hopefully, in the coming days, SEC will be complete", Vanhoute declared.
SEC will have 9 members, 6 of them proposed by political parties and 3 will be independent experts.
Meanwhile, the four political parties must also reach an agreement on the issue of media, as one of the remaining issues form the June 2 agreement.
The beginning of January is expected to mark the resignation of PM Nikola Gruevski and the election of a temporary PM proposed by VMRo-DPMNE, who along with the current governing cabinet, which the Macedonian opposition is part of, will prepare the 24 April 2016 elections.
Political analysts say that all the deadlines of the agreement have been exceeded. Political analyst, Mersel Bilalli told IBNA that very little time is remaining until the elections.
"Even if compromise is reached on disputed issues, this would be a mere formality, because it cannot be applied in practice", says university professor, Mersel Billali, saying that the lack of the approval of the media reform, shows that the agreement has not been finalized yet. /ibna/