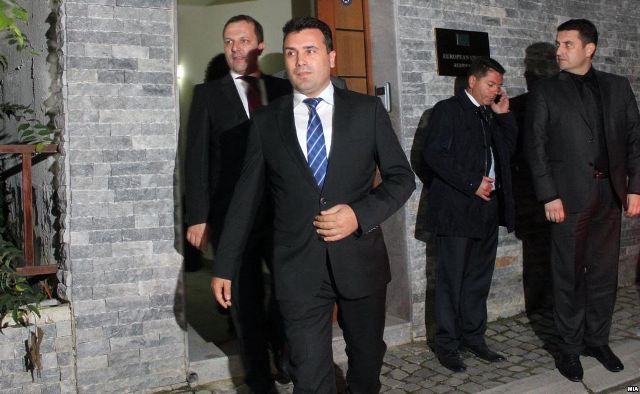 Skopje, 6 November 2015/ Independent Balkan News Agency
By Naser Pajaziti
After 14 hours of talks until the early hours of the morning, political parties in FYROM have managed to finalize the June 2 agreement, which puts an end to the political crisis.
With this agreement, political parties have decided to hold the elections on 24 April 2016 and the involvement of the opposition in the interim government. Under this agreement, the ministers proposed by the opposition have been appointed. The general secretary of SDSM, Oliver Spasovski was appointed minister of Interior, while Frosina Remenski, vice chair of SDSM, has been appointed minister of Labor and Social Affairs.
Under this agreement, SDSM and other Macedonian opposition parties will hold the post of the deputy minister of Finance, the ministry of Agriculture and ministry of Administration.
Leaders of VMRO-DPMNE, SDSM, BDI and PDSH have agreed on the bill which forbids the publication of materials that are sensitive to the public.
Leader of VMRO-DPMNE, Nikola Gruevski said that he's happy with the agreement that was reached. "I'm happy about this agreement and the opposition must assume full responsibility in leading these key ministries. I would not be surprised if SDSM will once again attempt to cause delays", Gruevski declared.
Meanwhile, leader of SDSM, Zoran Zaev declared that he's waiting for the parliamentary session which will vote the bills that relate to the agreement that was reached.
"SDSM will assume responsibility for the democracy in the country. We expect PM Nikola Gruevski to resign based on the agreed timeline", Zaev said.
Leader of BDI, Ali Ahmeti said that what's more important with this agreement is the fact that the elections must not be postponed and they should be held on the agreed date.
"The finalization of these issues implies continuation of structural reforms in compliance with EU recommendations, return of political stability and security in the country and it also offers a guarantee for free and fair elections", said leader of BDI, Ali Ahmeti.
Meanwhile, the representative of PDSH (Albanian Democratic Party) in opposition, Imer Aliu, said that their party will not be part of the interim government and that this will remain the only party in opposition. /ibna/