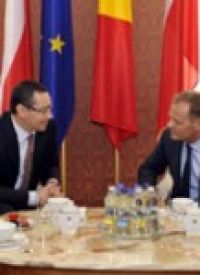 By Andreea Marinas
"For Poland and Romania, identifying new energy sources is a strategic goal leading to the energy independence and security of the two countries," the Romanian PM said whilst in a trip to Warsaw.
Premier Victor Ponta has been on an official visit to Poland, during which he met with Polish counterpart Donald Tusk.
The Romanian Social-Democrat leader met with Tusk last year, too, when the Polish PM invited Ponta for a private visit, on the occasion of the European Football Championship. During the private visit last year, the Romanian premier visited the Museum if the former Nazi camp of Auschwitz-Birkenau and attended, along with Donald Tusk, the Poland – Czech Republic football game. Also last year, Ponta said that Tusk is a model for him, given how he handled a dispute with the Polish president over participation to the European Council.