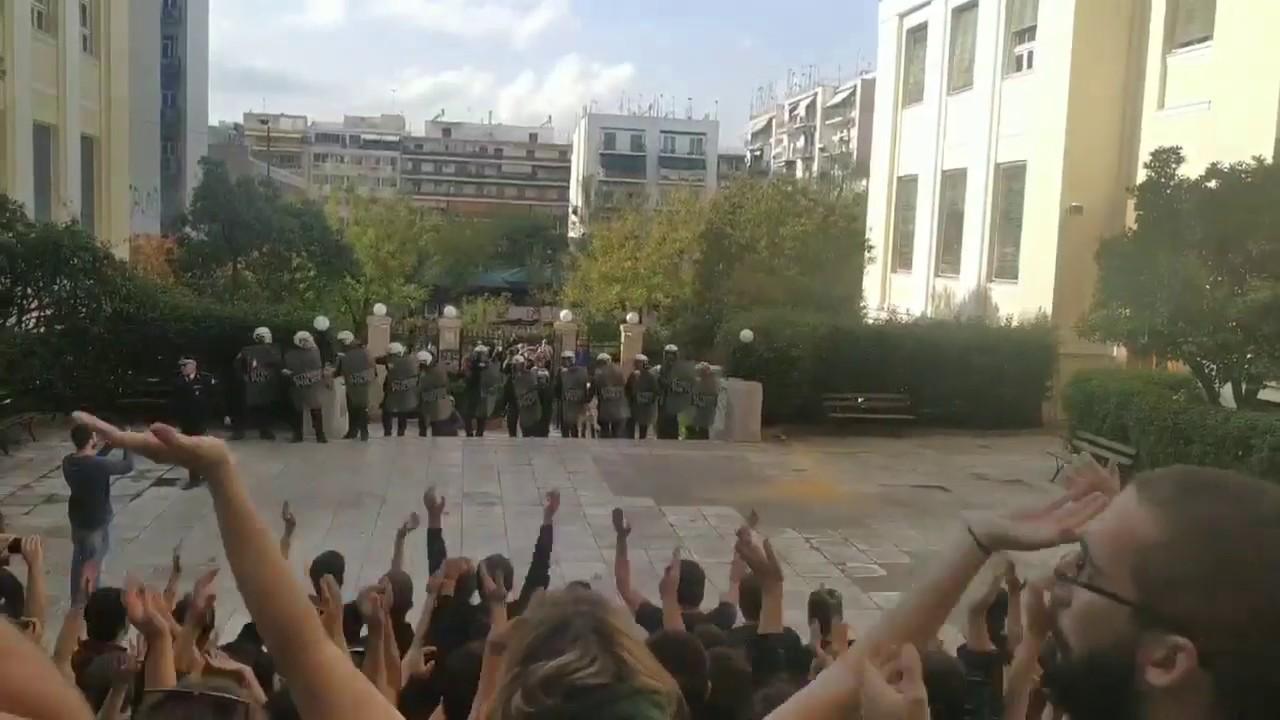 Main opposition appears concerned over growing police crackdown
Men from the Units for the Restrainment of Order (MAT) stormed the Athens University of Economics and Business this morning, as students were gathering to protest the Rector's decision to close the school until November 17.
The MAT squads, after breaking the main entrance, entered the courtyard of the university using tear gas and flash bombs. At least one student was hit in the head by a globular bump, while some fainted from the use of chemicals. Doctors and journalists who arrived at the scene complained that the police did not allow them to get closer.
Yesterday on Sunday, forces from the Group of Crime Prevention and Suppression (OPKE) carried out an operation inside the University, as part of an arm and drug investigation, which constituted a follow-up to the evacuation of unauthorized occupants in an adjacent building. After that, the University's Rector announced a lock-out until November 17, the anniversary of the student uprising of the Polytechnic University in 1973 against military dictatorship. The excuse was the fear of violent incidents. This prompted a reaction from the student union, which demanded that the academic operations of the institution not be interrupted.
According to the police headquarters three prosecutions have been made, while they point to the attack they received by the gathered students, a claim which proves to be invalid, though, following videos released online. SYRIZA and DiEM25 executives and hundreds of citizens called for the release of the students.
The responsible SYRIZA chief spoke of an unfair and unjustified attack, while leading party officials speak of the establishment of a police state. "SYRIZA condemns the authoritarian downfall of Mr. Mitsotakis' government, the irresponsibility of which only manages to trigger dangerous situations", the main opposition states, stressing that it was a case of "diversion using communication means" in an effort for the utter failure in the managing of the refugee issue to be forgotten".
The government spokesman accused SYRIZA of siding with the "looters", speaking of "powerful minorities", while defending the police operations. It is noted that after the abolition of university asylum, it is the first time in the last 20 years that the police clashes with students inside the university.
The main opposition's concern has been mounting in the wake of rising police violence in recent years. Just this weekend operations were conducted in the Exarchia region, with serious allegations of excessive violence being made. At the same time, special forces raided a nightclub in Athens, searching for drugs. More than 300 patrons were ordered to kneel and put their hands behind their heads.
There are a few who fear that the situation might deteriorate in view of the marches and protests on the occasion of the Athens Polytechnic Uprising anniversary, but also on December 6, a day commemorating the murder of a 15-year-old student by a police officer back in 2008. /ibna