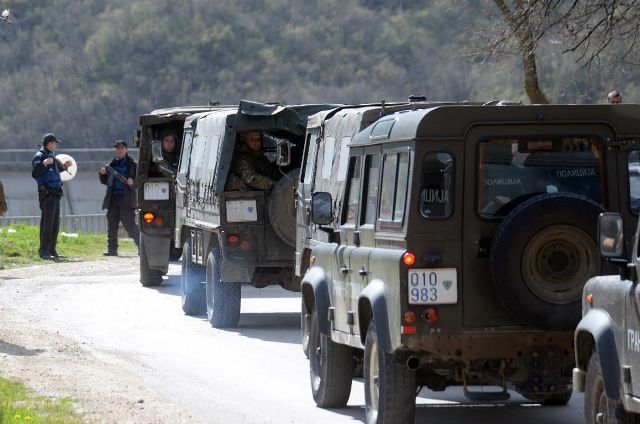 Skopje, April 27, 2015/Independent Balkan News Agency
By Naser Pajaziti
Macedonian police authorities are conducting a raid in the area near the Kosovo border, a few days after armed groups attacked a border police post.
Ministry of Interior declared that the operation has started on Sunday in the early hours of the morning in search of what it calls terrorists and weapons.
Police has been concentrated in two villages, that of Malina and that of Breze, inhabited by ethnic Albanians. But this area is known since the 2001 conflict, where the first clashes between the Albanian guerilla force National Liberation Army and Macedonian security forces, kicked off.
Spokesman of the Ministry of Interior, Ivo Kotevski declared that police is conducting a large scale raid near the border with Kosovo, where weapons and ammunition have been found.
"The Ministry of Interior has continued an operation in three border villages and weapons and ammunition has been found in empty homes. We will soon come out with details on this operation", Kotevski declared.
The police raid has not been received well by local residents.
Veli Saliu, head of the local council in Malina told IBNA that the residents are worried as a result of this wide police operation and he demands the immediate withdrawal of police units.
"As of 3 am on Sunday, around 500 police forces have arrived without any justification and raided every home. This operation is being accompanied with heavy artillery, helicopters and armored vehicles which are staying in the village. 10 to 15 police officers have been located in every home. They're clad in black and armed to their teeth. This is worrying our children and women. We appeal for them to withdraw in order not to cause tension", declared Veli Saliu.
The Ministry of Interior has declared that it's also looking for suspects who may be part of the armed group that attacked the border police post in the area of Gosinca. The so called UÇK group has assumed responsibility about this attack. This force became inactive in 2001 upon the end of the conflict.
Mirsad Ndrecaj, former commander of UÇK has issued a statement where he admits that the attack has been carried out by this group which has used UÇK emblem and that they are demanding justice and equality for Albanians in FYROM.
"The most honest young men of the Albanian nation are behind the attack at the police post. We, former superiors of UÇK never agreed with the Ohrid Agreement, which proved that it doesn't resolve the problems of Albanians. We don't want war, but we fight it when we have to", declared Mirsad Ndrecaj, who has ruled out rumors that millions of Euros have been received for these attacks with the only scope of causing unrest in FYROM and veer off attention from the current political crisis.
Ziadin Sela, leader of the new political force Movement for Reforms at PDSH (Albanian Democratic Party) has reacted as the only subject against this police operation near the border with Kosovo.
"The situation in the Albanian villages of Gosinca and Malina is very serious as a result of the large presence of police forces. Citizens are not free to move and work. Police is maybe trying to intimidate people, but in fact, they are irritating every Albanian citizen. We are on the side of all the residents of these areas, where this unprecedented show of police occupation of Albanian villages is taking place. If police forces are not withdrawn, as an opposition we will not remain indifferent against this police pressure which is being exerted against Albanians of these areas", declared for IBNA, Ziadin Sela.
In a rally with citizens on Saturday in Ohrid, PM Nikola Gruevski said that the state will continue to fight every group that wants to cause unrest.
"The attack in the border police post in Gosinca is a serious case. We will continue to address this and this situation must not be used for political purposes. I can see how the opposition accuses us of being behind of this and I'm sorry about this anti-state rhetoric which reminds me of 2001", declared PM Nikola Gruevski, adding that the institutions will act in order to defend the interests of the state. /ibna/