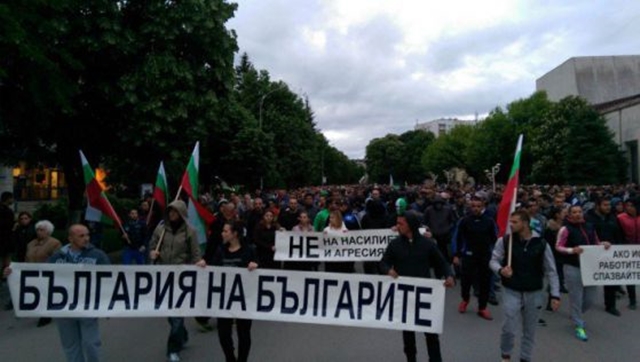 Sofia, May 5, 2016/ Independent Balkan News Agency
By Clive Leviev-Sawyer of The Sofia Globe
Three police and six protesters were injured in confrontations in the southern Bulgarian town of Radnevo as more than 2000 people demonstrated over an earlier incident in which four Roma men seriously assaulted three young men.
The Roma men are in custody and are to face charges of attempted murder.
While some reports said that those taking part in the protest in Radnevo, officially said to have a population of about 13 000, were locals, other reports said that biker clubs and "football fans" – the latter often a byword in Bulgaria for young men seeking confrontation in far-right and nationalist causes – had come to the town for the event.
The clash during the protest on the night of May 4 happened after some of those taking part in the protest threw stones and other objects, including fireworks and water bottles, trying to break a large police cordon and head to the town's Roma neighbourhood.
Following the clash, two men were taken into custody and were to face criminal charges, according to Bulgaria's Interior Ministry. Five minors were taken to the town's police headquarters, were cautioned and released into the custody of their parents. Police were working to identify others involved in the confrontation, the ministry said.
Those taking part part in the protest chanted "Bulgaria above all" and some carried banners reading "Bulgaria for Bulgarians".
Radnevo mayor Tenyo Tenev has ordered a check into allegedly illegal commercial establishments owned by the family from which the four men charged with attempted murder come. If the buildings are found to be illegal, the buildings will be demolished, he said.
Tenev said that people were "sick of the outrages by this family, this unscrupulous, aggressive and arrogant behaviour". He said that other members of the family had been involved in violent confrontations in recent months.
On May 5, speaking to public broadcaster Bulgarian National Television, he called on people who wanted to protest to do peacefully. He blamed the clashes of the previous night on fans of the Beroe football club.
The May 4 clash was not the first of its kind in Bulgaria, which in recent years has seen sporadic confrontations between Roma and non-Roma residents of some towns, usually sparked by crime problems and an alleged failure of police and local authorities to do anything about them. The issue is a popular one among nationalist minority parties in Bulgaria.