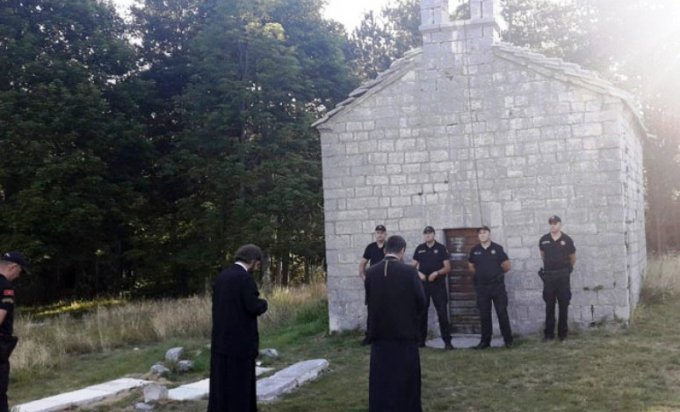 More than 15 police officers with special vehicles prevented this morning the clergy of the Montenegrin-coastal Metropolitanate (Serb Orthodox Church) from entering the Church dedicated to the Feast of the Transfiguration of the Lord on Ivanova korita at the foot of mount Lovćen.
The police acted on the decision of the Montenegro Ministry of Internal Affairs, which banned the holding of the Holy Liturgy, although the Montenegrin-Coastal Metropolitanate reported the arrival on time. The Metropolitan Legal Team appealed this ruling to the Administrative Court, but it did not receive an answer.
It has been reported from the Metropolitanate that such conduct – the prohibition of worship in a temple owned by the Metropolitanate, is not a characteristic of modern societies.
"For the Transfiguration, the Holy Service has been served for centuries in this Holy Temple on Ivanova korita, and for many years the prohibition of prayer gathering is an unlawful act and play with the deepest feelings of Orthodox believers," the Metropolitan said.
In the Montenegrin-coastal metropolitan region, they hope that reason will prevail, however, and that the liturgy will be allowed next year for the feast of the Transfiguration of the Lord on Ivanova korita.
The access to the temple was denied to the clergy of the Montenegrin-Littoral Metropolitanate: the Archpriest-Stavrophore Gojko Perović, the Archpriest-Stavrophore Obren Jovanović and Deacon Dušan Bigović, as well as Rajko Radusinović, the President of the Church Municipality of Cetinje.
The Montenegrin Police Administration has banned worship at the Church of the Holy Transfiguration of the Lord on Ivanova korita for several years. The cause was a 2009 incident when members of the canonically unrecognized Montenegrin Orthodox Church violently attempted to enter this temple while priests of the Montenegrin-Littoral Metropolitan served a Holy Liturgy to the Transfiguration.
Supporters of the dilapidated Miraš Dedeić then attacked some twenty police officers not far from the temple in an attempt to enter the Temple, while the religious ceremony was still ongoing./ibna