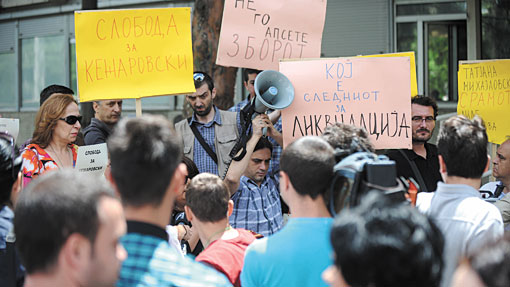 Skopje, October 23, 2013
Police special forces prevented today in Skopje the holding of a protest by journalists as a sign of revolt against the imprisonment of journalist Tomislav Kezharovski.
Association of Journalists in FYROM declared that journalists were prevented today by police forces to reach the Museum of War or the museum of VMRO.
Initially, journalists were blocked by 100 police officers, as a ceremony of the anniversary of the revolutionary war of VMRO was taking place today. Journalists were initially surrounded and then dispersed.
The protest was organized by the Initiative Committee for the release of Kezharovski, who was sentenced to 4 years and 6 months in prison for leaking the identity of a protected witness relating to a double murder taken place in Veles in 2008. His imprisonment has also sparked reactions by the European Union and NGOs. /ibna/