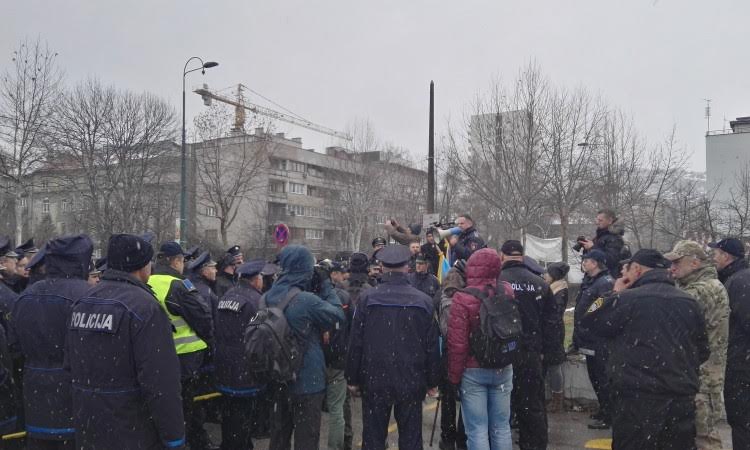 A few thousands of police officers from several Federation BiH cantons gathered on Monday in front of the entity Government building to protest against the new draft Law on Pensions and insurance of persons with disabilities.
They asked the agreement of the Government about police officers' retirement conditions, since the solution in the disputed Law is not suitable for a profession like the one of police staff. Police trade unions decided to call their members to the protest because there was no positive answer from the Government and due to the fact that both houses at the entity Parliament adopted the draft. It was an unusual situation that police officers appeared as protesters and security at the event. The delegation of trade unions went to the Government building but, after one hour they returned without any result. Sadly, nobody received them to listen to the protesters' demands. Mirza Hadžiabdić of the Sarajevo Canton Police Union said to the media that the Federation BiH Prime Minister, Fadil Novalić, did not appear at the office and did not receive representatives of the negotiating team of the police unions.
"That is the best explanation why we are here and why we are in a situation in which we need to protest today," said Hadžiabdić.
He emphasised that the gathering ended shortly after it began because they did not want citizens to suffer from the traffic jam caused by the protest. Moreover, participants themselves did not want to freeze more while standing outside in the cold.
"We will take all the measures that we are allowed to finally get what we demand. We waited for an hour, nobody received us. An hour was enough," said Hadžiabdić.
Federation BiH PM, Fadil Novalić said to the press that it was not true that he refused to hold a meeting with police trade unions' representatives.
"Like every (other) ordinary day, I was on duty but today I happened to be out of the Government building. Earlier, we had several meetings on this issue but, unfortunately, we did not reach an agreement. I am sorry because of that, but I must remind police representatives that they ignored my last call about the meeting so as to discuss the matter," Novalić explained to journalists.
The next step of their protest rounds will take tomorrow, Tuesday December 19, at the gathering scheduled in front of the Parliament building of the Federation BiH. Organisers are expecting a smaller crowd of police officers.
They gathered in Sarajevo and expressed their concern that, according to the new law, which is just a step before its adoption, their pensions would be lowered by 25 to 30 percent. What they demand is from the Federation BiH Parliament to manage and include just one sentence in the final version of the law in the governmental proposal -that pensions of police officers will be governed by a special regulation…/IBNA
Photo: FENA